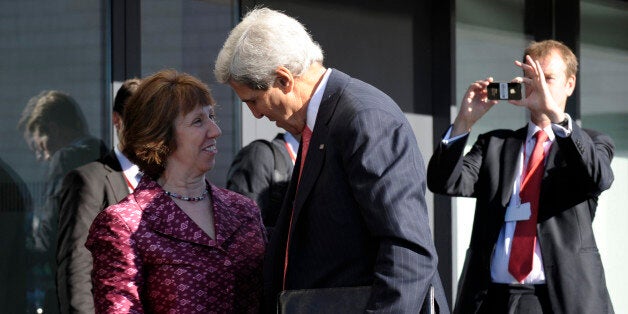 "Those who mocked Lady Ashton's appointment," Labour MP David Winnick told the House of Commons on Monday. "May wish to apologise accordingly."
Baroness Catherine Ashton, the grandly titled High Representative of the Union for Foreign Affairs and Security Policy for the European Union, has had a rare good few days thanks to the deal struck between the West and Iran.
As the lead diplomat acting for the West, Ashton held face-to-face meetings with Iranian foreign minister Mohammad Javad Zarif as the tense negotiations progressed. When the deal was signed, the word's leading foreign ministers lined up to kiss and hug Ashton. Zarif, who for religious reasons could not plant a kiss on the EU's foreign policy boss, clasped his hands together in appreciation.
The outcry was that, as a peer with a background entirely in domestic policy, having been a justice minister and leader of the House of Lords, Baroness Ashton did not have the necessary foreign policy chops to stand alongside the Condoleezza Rices of the world. Or stand up to the Vladimir Putins.
Ashton's new post was a beefed-up version of the EU foreign policy brief held by Spaniard Javier Solana and former Tory party chairman Chris Patten - both of whom had more international relations experience when they were appointed. But she was unable to rely on a established foreign policy bureaucracy to bring her up to speed and make her credible quickly - as her first job was to create one. Ashton was not only thrown in to the diplomatic deep end, she had to set up the new European External Action Service (EEAS) from scratch. For many that job, needed a David Miliband (he turned it down to run for Labour leader) rather than a relative unknown.
Her time as the EU's foreign secretary has been beset by sniping and negative briefing, including the rumour, which she denied, that she turned off her phone every night at 8pm. France's Europe minister Pierre Lellouche complained of the "void" left by Ashton. She was accused of "amateurism, even incompetence" by the French newspaper Libération over her handling of the crisis in Haiti.
And over three years into the job, with talks with Iran underway, Ashton was still not seen as a big hitter back home. Earlier this year when Hillary Clinton was in London, reporters waiting outside an event barely batted an eyelid when the EU's foreign policy chief exited the building having met the former secretary of state. And none bothered to ask any questions.
However the deal signed between the West and Iran over its nuclear weapons programme this weekend has done wonders for Ashton's PR. "Iran nuclear deal takes Catherine Ashton from 'zero' to hero" The Daily Telegraph declared. And The Guardian suggested the much maligned peer had become "the EU's diplomatic secret weapon".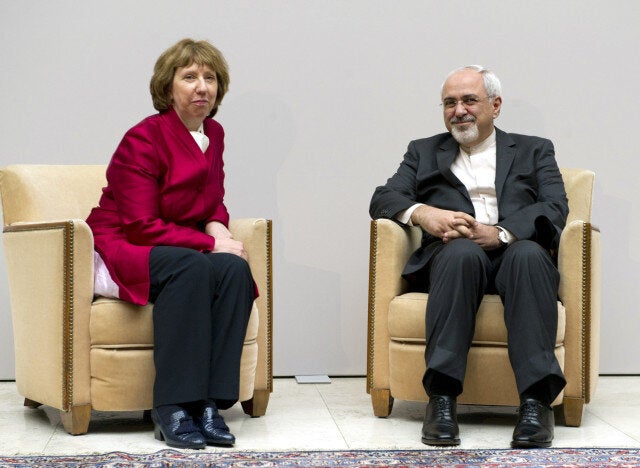 Baroness Ashton meets with Iranian Foreign Minister Mohammad Javad Zarif
One former senior EU official said Gordon Brown's decision to appoint Ashton "was not a very obvious one" and that the criticism she received was "not unfounded" given her lack of experience. However, the official said, the personal attacks had been "very stupid."
"Given the criticism she was subject to, her job was to establish herself as credible foreign policy actor which she has done now. She had done it before but nobody had noticed. The Serbia-Kosovo deal was something nobody could have believed would have happened a year ago. And if you had checked with people who were following Egypt they will tell you that of pretty much all of the international actors she had the best relationship with Morsi," the official said.
"If you want to make a comparison, draw up a list of the achievements of Hillary Clinton. A very respected and good secretary of state but what did she actually do? In foreign policy, success is quite rare."
In 2014 David Cameron is likely to replace Ashton with a Conservative as Britain's European Commissioner. But in the Commons yesterday William Hague paid tribute to the "indispensable role" played by the Labour in securing the deal with Iran. "She has handled things brilliantly, particularly in creating confidence between the Iranian negotiators and the E3 plus 3 team," he told MPs. And former Tory Foreign Office minister Alistair Burt, who had been working on the Iran deal until his surprise ejection from government earlier this year, praised her "persistence".
Shadow foreign secretary Douglas Alexander said Labour had "particular pride" in the role played by Ashton in the talks and the "determination, skill and diplomatic perseverance" she had shown.
The next time Ashton attempts to sneak out of a building - it seems likely that any journalists nearby will now decide to follow her.