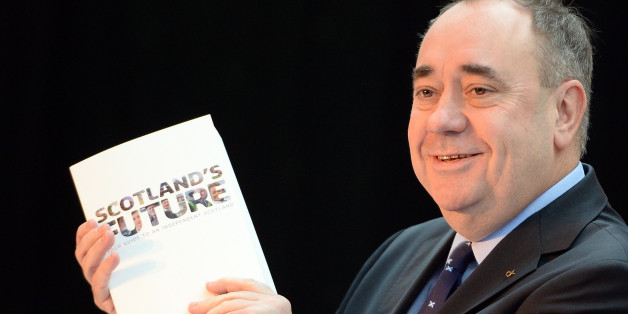 Jeff J Mitchell via Getty Images
Alex Salmond has reassured Scottish voters that an independent Scotland would still keep the pound, the Queen as its head of state and access to watch Dr Who on the BBC.
However the Scottish First Minister was accused of "ducking the big questions" after publishing a 670 page paper setting out how an independent Scotland would look.
Salmond rubbished the "scare story" that Scottish people would no longer be able to watch BBC programmes, like the Dr Who 50th anniversary special which aired last weekend, if it had been an independent nation.
He added: "This story ran for few hours before the no campaign realised it was being broadcast all over the world. Scotland is entitled to a share of assets of the UK, as long as the BBC remains in public hands, which we hope will be for a long time, then we'll have as hare of the assets of the BBC."
The paper states: "Current programming like EastEnders, Doctor Who, and Strictly Come Dancing and channels like CBeebies, will still be available in Scotland."
TOP STORIES TODAY
The First Minister was accused of making unbacked "assertions" that Scotland would still keep the pound if it became independent, as the proposed currency union would depend on the Westminster government's support. Meanwhile, the Scottish government's plan to keep the Queen as head of state would need the approval of Buckingham Palace.
"Under our proposals, we will keep our close links of family and friendship through an ongoing social union and will continue to share the Queen as head of state, as 16 Commonwealth countries already do, and we will share the pound as our currency," the paper read.
Former Labour chancellor Alastair Darling said Salmond was "ducking the big questions" over Scottish independence, dismissing the proposal as full of "claims and assertions".
But Salmond insisted the proposed currency union to keep the pound sterling was "in the best interest of the UK", adding that the paper put forward arguments that were "strong and reasonable", which people can decide on in next year's referendum.
Scotland has contributed more in tax per head of population (£10,700) than the UK (£9,000) for the last 32 years, the paper said.
Chief secretary to the Treasury Danny AlexanderChief secretary to the Treasury Danny Alexander said that government analysis showed that basic rate taxpayers north of the border could end up paying more in taxes, but the Scottish Government said Westminster has "squandered" oil revenues which could have been put in a national savings fund worth up to £22,000 for every person in Scotland.