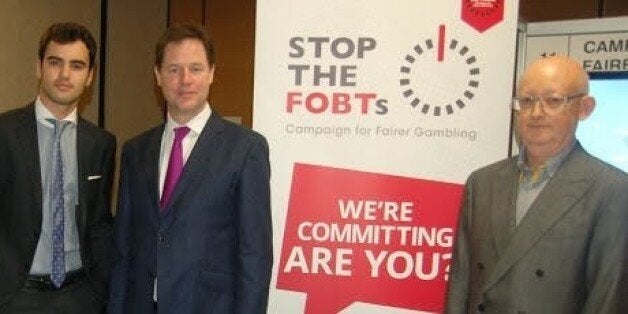 The only changes backed by the Lib Dem committee members were to allow the maximum stake and prizes for non-FOBT machines like pub fruit machines to be increased.
Lib Dem MPs John Hemming and former minister Andrew Stunell voted with the Tories to keep the maximum bet of £100 per spin every 20 seconds, equivalent to £18,000 per hour, for fixed odd betting machines (FOBTs), dubbed the "crack cocaine" of British high streets, according to a Labour MP.
Labour MP Graham Jones told the Huffington Post UK: "This is a re-run of the tuition fee scandal when they said we won't make promises on tuition fees, now they are having photographs taken with campaigners, pushing them out and then voting to keep the status quo. "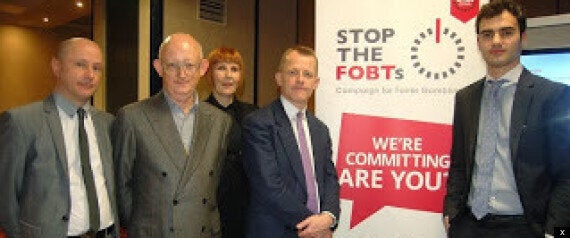 David Laws snapped with the 'Stop FOBT' campaign
Jones added: "If the LibDems had voted with Labour, the £100 maximum per spin could have been stopped, but now the status quo has been put through. They don't get put on the committee at random either, the party chooses them and they have to get their business through. It's complete hypocrisy."
Blogging on the Huffington Post UK, Labour MP Tom Watson wrote: "At the moment, a punter can walk into a high street bookmakers and gamble away £100 every 20 seconds for 13 hours. This has the potential not only to destroy their life but also the lives of everyone else around them."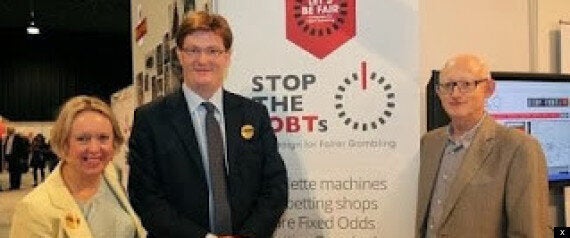 Danny Alexander with the 'Stop FOBT' campaign
However, Lib Dem MP John Hemming said: "The government will take a final decision on FOBTs in 2014 and it is committed to using evidence to drive decisions and if it does not so, then statutory instruments can be quashed in the courts.
"Voting against it today would not have had any practical effect, as it would still have progressed. FOBTs first started in 2001 so it is a bit much to criticise the government for spending another 4 months to get the evidence together to ensure that this is enforceable."
Lib Dem deputy chief whip Don Foster last year said: "There's no doubt this is ruining people's lives. Fixed odds betting terminals have incredibly high stakes and prizes. People chase their losses. These machines are getting more and more sophisticated."
Derek Webb, founder of the Campaign for Fairer Gambling and Stop The FOBTs campaign, said: "There are mixed messages coming through from MPs from all parties. This is a cross-party issue, and we have always planned a long-term campaign, so will continue our efforts to see sensible restrictions on the high-speed, high stake gaming machines on Britain's high streets."