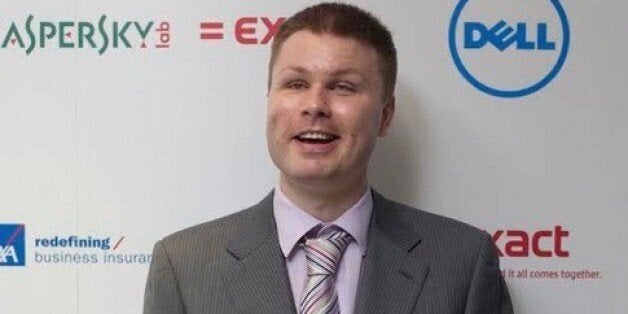 Disabled people, charities and campaigners have been urged to stop "snubbing" fellow disabled people who become successful, one of Britain's best known disabled entrepreneurs has said.
Speaking to the Huffington Post UK, Neil Barnfather, a blind serial entrepreneur who has built up 19 profitable firms, compared the disabled community to a "bucket full of crabs" as "when one crab begins to get outside of the bucket, the other crabs pull it back in."
Barnfather, who built up profitable companies in areas ranging from aviation to vending machines and circuit boards, runs eHosting, a web hosting firm servicing around 140,000 businesses worldwide. He is Britain's most influential disabled entrepreneur, according to the Disability News Service.
He said the disabled community needed a "cultural shift", adding: "by not broadcasting my success, they're snubbing successful disabled people. They should be pushing them up the flagpole!"
The entrepreneur struggled to highlight any other successful disabled entrepreneurs in Britain, admitting: "It just shows the under-representation. I'd actually be glad to find out if someone was better than me, that'd be brilliant!"
Barnfather was shortlisted as serial entrepreneur of the year at the Great British Entrepreneur Awards last week and spent eight years as an International Business Ambassador for the British Chambers of Commerce.
The blind businessman said disabled people have yet to have a "civil rights movement" on the same scale as what took place for women and ethnic minorities.
"The trouble is when you go for a job interview, there's an invisible box your employer is looking to a tick - a thing that goes on in your brain when you wonder 'Can I see the person doing the job?' If you've never seen them doing a job, that box never gets ticked."
"We've all seen black people doing the job, white people, women and gay people and so on, but because the disabled community is so under-represented in the employment sector, we lose out."
According to the Labour Force Survey, less than half (46.3%) of working-age disabled people were in employment compared to 76.4% for non-disabled people, marking a 30% gap.
Barnfather said the lack of positive support for successful disabled entrepreneurs was ironic given the "humungous" level of unemployed disabled people and that they are "very naturally entrepreneurial about their lives, very good pragmatists and so make natural businesspeople".
The entrepreneur put forward a "conspiracy theory" to explain why disabled charities and campaigners were reluctant to celebrate successful disabled entrepreneurs.
"If they succeed with achieving their objective, they'd all make themselves redundant. Why would they do that?'"
"Many disabled charities are run by people who aren't suffering from a disability. If you succeed in your mission, it means you're out of a job! But staying at the head of such a charity will leave you with a CBE!"
Barnfather described himself as "happily successful" in business. He added: "I live in a very nice house in a very nice part of the country and I have no needs or wants and when I travel in the airplane, I tend to sit in the front.