A turkey named Alice has avoided the annual bird genocide this thanksgiving – after she was hit by a truck.
Alice was treated for brain and wing injuries after the accident in Maine earlier this month.
Meg Lord had been driving when the wild turkey strayed into her path.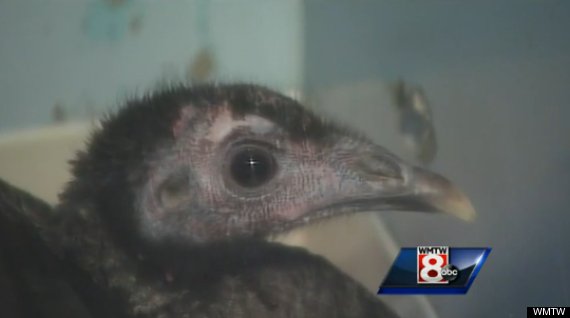 Alice is recovering from brain and wing injuries at the Centre for Wildlife in Maine
She told WMTW: "When I went over to her, I spoke to her really quietly and said 'I'm going to put the blanket over you' and I reached down and picked her up and she was huge. She just felt huge in my arms."
Lord strapped Alice into the passenger seat and drove her to the nearby Centre for Wildlife where they continue to treat her for her injuries.
Once she has replied, Alice will be released back into the wild, specialist Erin Burns told the Bangor Daily News.
Awwww. Warm feelings alert.
But, as Gawker points out: "If all goes well for Alice, she will fully recover, before a gunshot ends her life sometime in the next calendar year."
:(