There was a feeling of instant dread. Manchester United had just seized the initiative in the 2008 Champions League final penalty shootout thanks to Anderson's sudden death rallying cry, but now Ryan Giggs was approaching the 12-yard spot.
Giggs' cocksure keep-ups from the centre circle en route to facing Dave Beasant in 1992 evocatively sprung to mind. Beasant saved the 18-year-old's effort that February night to eliminate United from the FA Cup and Giggs had not taken a penalty since.
Appropriately, though, he slotted the ball into Petr Čech's bottom left-hand corner for what would ultimately be the winner. Edwin van der Sar saved Nicolas Anelka's feckless effort moments later and 50 years on from the Munich air disaster and four decades since Sir Matt Busby's big night at Wembley, United were European Cup winners again.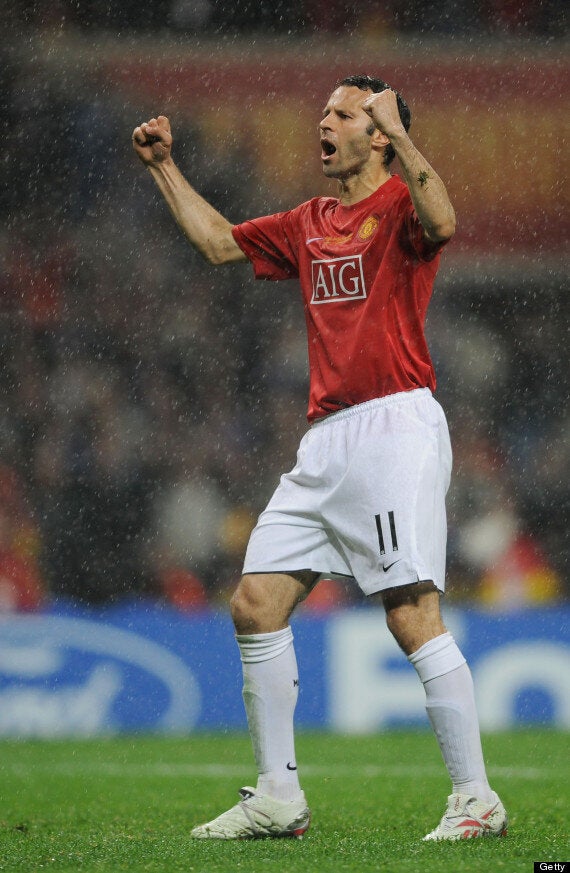 Clincher: Giggs celebrates his spot-kick in the Moscow rain
Upon reflecting on that final, the consensus among many United fans was Giggs, aged 34, should retire. His form in his 30s had been mixed but in 2007-08 he was unforgivably bad at times. Feared by the blues, loved by the reds? It didn't seem like it. His chant was wittily rejigged to "Hands on his hips, he is f*****g s**t," by one acerbic supporter.
Giggs had masked a dismal season by clinching the Premier League title on the day he equalled Sir Bobby Charlton's appearance record for United before, on appearance 759 in Moscow, he secured a second Champions League trophy for Sir Alex Ferguson. Be it record-breaking outings, a 900th milestone or on the week of his 40th birthday, Giggs is a man for occasions. It is embarrassing that someone as unprofessional as Anderson was once regarded as a safer bet than the club's most decorated player.
Since the Moscow final, Giggs has played some of his best football in a red shirt. He was never going to match the marauding youngster who coined the football cliché "twisted blood", but Giggs has effected United in a way that underlines his durability through the ages.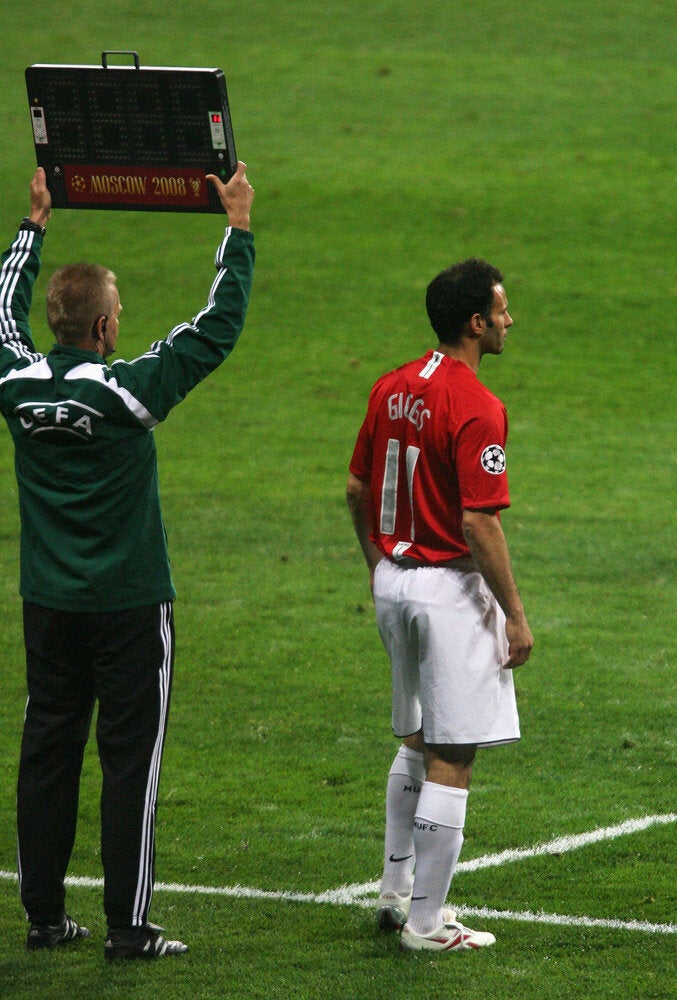 Ryan Giggs in Moscow
In 2009, he was named PFA Footballer of the Year and Sports Personality of the Year. Although both undeserved, they indicated just how exceptionally Giggs had recovered from a season in which United fans were hoping he would ride off into the sunset a winner. It couldn't get any better.
The key was Giggs' initial reluctance to adapt. He could no longer terrorise full-backs as regularly as he once did, so Ferguson moved him into central midfield for a January 2009 clash with Chelsea. He hasn't looked back.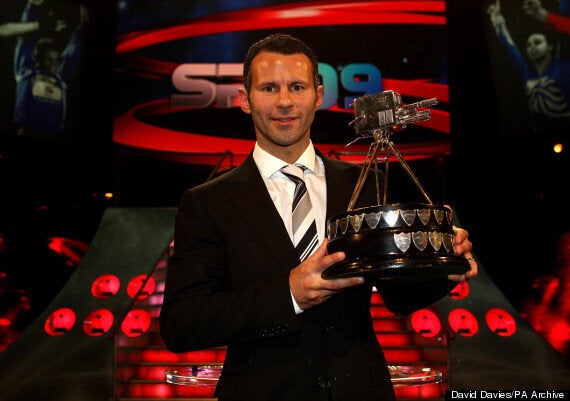 Giggs receives his 2009 BBC Sports Personality of the Year award
Man of the match that day, Giggs has been United's most creative central midfielder in the last five years by a distance, embarrassing men younger and - supposedly - fitter than him.
His performance in the memorable derby 4-3 four years ago is one of his greatest. Michael Owen might have claimed the headlines but it was Giggs' perceptive pass which made the chance possible, and his impact in the second half of United's 19th title win was indispensable.
Last season, he began the campaign atrociously - Ferguson even hauled him off at half-time in a defeat to Tottenham. However, like United, he is someone you write off at your peril. A joyous cameo at Swansea kick-started three excellent months, as Ferguson entrusted him with creative duties in the second leg against Real Madrid in March.
At Cardiff on Sunday, Danny Welbeck and Wayne Rooney should have finished two gloriously erudite Giggs passes, reminiscent of his FA Cup assist for Robin van Persie. It was another stadium where the home crowd applauded Giggs. The Madridistas at the Bernabéu did, too.
Majestic in Leverkusen midweek, the first debutant of the Class of '92 has outlasted them all, as well as Class of '95 captain and fellow United coach Phil Neville. Fortunately for United, Moscow wasn't Giggs's Waterloo.