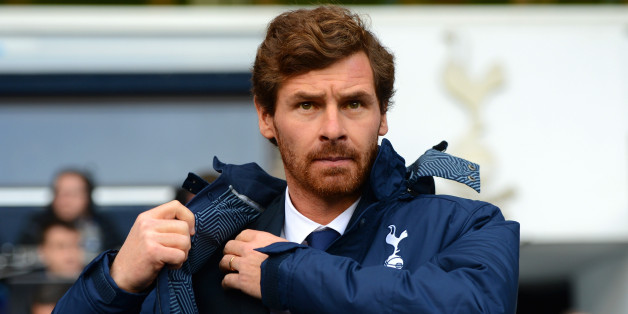 Michael Regan via Getty Images
Whether Tottenham won, lost or drew with Manchester United, André Villas-Boas was ready for a confrontation. He needed little persuasion to expand on his "agenda" comment made to BT Sport after his side's spirited draw on Sunday, and was not dissuaded from citing Neil Ashton's article this week even though the author was sat in the front row at his post-match press conference.
Spurs had actually played excitingly again in a united and defiant performance against the champions. The crowd were largely supportive, Sandro crashed in a blockbuster, Aaron Lennon tormented Patrice Evra and Roberto Soldado led the forward line more convincingly in an encouraging response to the Manchester City disaster. It was reminiscent of the Spurs of 2012-13.
But Villas-Boas was vexed by the treatment he had received in a week reminiscent of his erratic spell at Chelsea, when even Gary Neville's humorous remark that David Luíz played as if he was "controlled by a 10-year-old on a Playstation" irked him. Luíz actually saw the funny side.
Daily Mail writer Ashton's critique of the season at White Hart Lane was, Villas-Boas argued, a personal attack, which is understandable when you consider how unflattering the title of the piece in question was. "Any of us could have had AVB's success at Porto - but he was out of his depth at Chelsea and he is the wrong man for Spurs," it read.
Tottenham 2-2 Manchester United: Attacking Football Returns To The Lane
André Villas-Boas Attacks 'Disrespectful Daily Mail Journalist
In his first season at Spurs, Villas-Boas masterminded Gareth Bale's development into a world-class player and recorded the club's biggest Premier League points total. It is ludicrous, if unsurprising, that his job is ostensibly in jeopardy when Tottenham are three points off fourth after just 13 games.
But back to the Mail. Supporters tend to think sports writers write their own headlines when this is rarely the case. The likelihood is the Mail would have OK'd it with Ashton, but the responsibility ultimately lies with the paper's sports editor.
Ashton wrote: "In 2011, the year Villas-Boas won the Treble with a ludicrous 84 per cent win record, Hulk and Falcao scored 74 goals for Porto.
"They didn't lose a single game in the league, conceded just 16 goals and won 16 matches in a row between December and May. To give you a better idea of the quality of the opposition, Porto met Vitória Guimarães, who finished fifth in the league, in the final of the Taca de Portugal."
However weak the Portuguese league is, winning three trophies and going the season unbeaten was a tremendous feat for Villas-Boas in 2010-11, as he turned 33. Certain British newspapers will belittle such an achievement to suit their ethos, and the right-wing Mail are a publication prone to being sceptical about foreigners, let alone foreign coaches. Ashton often gets scoops from within the Chelsea camp, which has possibly influenced his opinion of Villas-Boas from his eight months at Stamford Bridge, when he attempted to disband the club's player-power faction.
Ashton's diatribe followed Martin Samuel's "attack" on Tuesday. "What's the beauty of being Villas-Boas? It's always someone else's fault" was the top line. Villas-Boas should have laughed such an ironic headline off considering Samuel ghosted Harry Redknapp's autobiography, serialised in the Mail. Redknapp, too, seemed to succeed in blaming everyone bar himself when Queens Park Rangers were relegated last season. The Mail lambasted José Bosingwa for laughing and joking with a Reading player seconds after their fate was sealed, yet failed to mention Redknapp's attempt at cracking a joke with Nigel Adkins.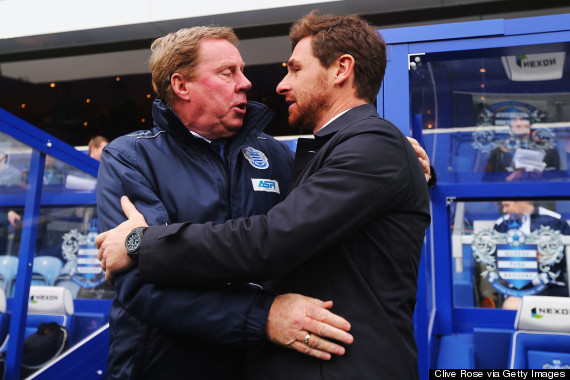 Villas-Boas is suffering as a consequence of following Redknapp at Spurs
Villas-Boas then took umbrage at how his "ashamed" comment, following Spurs' tonking at City, had been spun. He stressed on Sunday he had said "We should be ashamed", referring to himself and the players, when the Mail had purportedly suggested he had attacked only those who had played at City. Reports have since emerged detailing how dismayed Tottenham's starters were with the comments, and the situation has snowballed to the extent it is alleged Daniel Levy has drawn up a list of candidates to replace Villas-Boas.
While this is frustrating, it is not something Villas-Boas should have addressed with the cameras rolling in the week he had a Tromsø fan ejected for singing "You're getting sacked in the morning" at him. He still had ammunition to spare so drew fire onto former Tottenham chairman Alan Sugar, which at least went down well with the Spurs faithful. Sugar can't resist throwing stones in glass houses, and gobbing off about Villas-Boas's tactics was risible considering he brought Christian Gross to the club.
Villas-Boas was at least measured and calm during his exchange with Ashton. He didn't raise his voice and, perhaps worryingly for him, there was a flicker of José Mourinho's assuredness when he clarified "We is us".
The pressure is at least off Tottenham's players thanks to their coach's outburst, however Villas-Boas' capricious behaviour affected the morale and form at Chelsea and he would be prudent to rein in his emotions now for the sake of the squad.
There are also bigger concerns, such as Erik Lamela's absence from the 18-man squad on Sunday, which Villas-Boas explained was a "tactical decision". The Argentine is Spurs' record signing but has not been afforded the same latitude as the misfiring Roberto Soldado. Villas-Boas was also nebulous when discussing Jermain Defoe's future four weeks before the transfer window reopens.
Goals have been an issue, although Spurs at least managed to score more than once at home in the League for the first time since September against United. And while the 4-3-3 formation switch was effective, it was also an admission Villas-Boas is still not quite sure what his strongest line-up is. With six Premier League games to play over the festive period, it could be a momentous month for Tottenham and Villas-Boas.