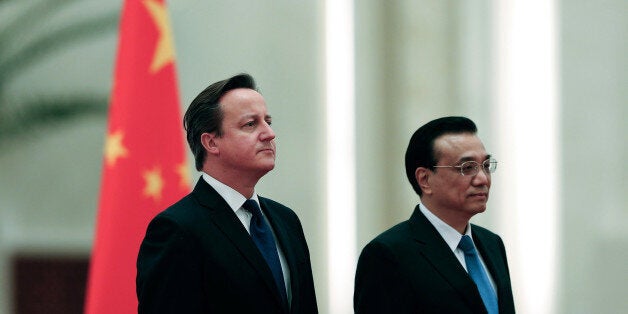 The five things you need to know on Tuesday 3 December 2013...
1) DAVE BOTTLES IT IN CHINA
"David Cameron avoided a public clash with China over its human rights record during the first day of his trip to the Far East yesterday, despite a British journalist being barred from a press conference after apparently upsetting the country's rulers.
"In contrast to his recent trip to Sri Lanka, where Mr Cameron publicly criticised the regime there for human rights abuses, the Prime Minister was silent on the issues of Tibet or China's imprisoned Nobel Peace Prize winner, Liu Xiaobo.
"The issue now threatens to dog the trip, on which he is accompanied by a large business delegation. Robert Hutton, from Bloomberg News, was told he could not attend Mr Cameron's press conference with Li Keqiang, the Chinese premier.
"Bloomberg has been blocked in China after its reporters were understood to have carried out an investigation into the finances of President Xi Jinping."
Let me point you in the direction of this HuffPost UK picture gallery of David Cameron enjoying the company of ten of the world's worst dictators...
Meanwhile, the Guardian reports that the PM's "trade narrative was also diverted as the prime minister acknowledged that he would struggle to meet his pre-election target of lowering net migration to the 'tens of thousands', as the latest figures demonstrated an increase in net migration – from 167,000 to 182,000... He said: 'The action we have taken takes some time to come through: getting rid of bogus colleges, trying to make sure that people who don't have a right to stay here leave, making sure that family reunion really is just that. A lot of these things take an amount of time to be dealt with.' He added that he would 'keep going on this'."
NOTE: Apologies for the lack of a Morning Memo on Sunday and Monday mornings. Normal service has now resumed again.
2) WATCH OUT BRITISH SPOOKS - HERE COMES THE UN
"The UN's senior counter-terrorism official is to launch an investigation into the surveillance powers of American and British intelligence agencies following Edward Snowden's revelations that they are using secret programmes to store and analyse billions of emails, phone calls and text messages... In an article for the Guardian, Emmerson said Snowden had disclosed 'issues at the very apex of public interest concerns'. He said the media had a duty and right to publish stories about the activities of GCHQ, and its American counterpart the National Security Agency.
"'The astonishing suggestion that this sort of responsible journalism can somehow be equated with aiding and abetting terrorism needs to be scotched decisively,' said Emmerson, who has been the UN's leading voice on counter-terrorism and human rights since 2011."
The Home Affairs select committee is conducting an inquiry into counter-terrorism and will hear today from perhaps it's most controversial witness - from the Guardian again:
"The Guardian's editor in chief, Alan Rusbridger, will give evidence to MPs on the committee this afternoon. Over the last six months the Guardian, along with other media organisations, has revealed the existence of mass surveillance programmes, such as GCHQ's Tempora, which taps into the cables that carry internet traffic in and out of the UK."
I wonder whether he'll get given their questions in advance - last month, the heads of the UK's three intelligence agencies appeared before the Intelligence and Security committee and were briefed beforehand on what they would be asked by MPs (!)
Rusbridger, meanwhile, has the backing of Emmerson:
"The Guardian has revealed there is an extensive programme of mass surveillance which potentially affects every one of us, but has been assiduous in avoiding the revelation of any detail which could put sources at risk."
Ahead of Thursday's Autumn Statement, the FT has a good story on its front page:
"Chancellor George Osborne will come under renewed pressure this week to prove the coalition is delivering its infrastructure promises after an in depth Financial Times analysis showed slow, if not minimal, progress on many schemes.
"In 2011, the coalition set out 40 'priority' projects covering roads, energy and telecoms - but only a handful of these have been completed... The analysis comes against the backdrop of work on infrastructure falling 13 per cent last year, according to the Office for National Statistics. In the third quarter it was 3.7 per cent down on a year ago, despite work on Crossrail, Europe's largest construction project.
"The decline comes three years after the coalition announced with much fanfare plans for £200bn of investment in 500 new road, rail and energy projects in a 'national infrastructure plan'."
BECAUSE YOU'VE READ THIS FAR...
Watch this video of 'political fails' - from Clinton to Castro, Bush to Blair, check out this compilation of political gaffes - encompassing everything from speeches to pratfalls.
4) UK SCHOOLS BEHIND. AGAIN.
"International league tables comparing school standards are expected to show the UK is failing to catch up high-performing countries in Asia.
"The results of Pisa tests, assessing teenagers in reading, science and maths, will be published on Tuesday.
"UK government and opposition spokesmen have issued statements anticipating a poor showing in the tables.
"... Labour's shadow education secretary Tristram Hunt has said that poor results would be evidence that 'frenetic, attention-seeking changes' to the education system are failing to deliver improvements.
"But Education Secretary Michael Gove says the forthcoming results will be a 'verdict on the last government'."
If you want to read a good debunking of the importance of such international league tables, check out Peter Wilby's piece in yesterday's Guardian.
"George Osborne is to claim that workers' overall pay has not fallen, despite official figures showing that the wages of middle-income families have dropped by £5,000 over the past five years.
"The figures, from the Office for National Statistics, showed a 6.4% drop in the annual wages of median households from £37,900 to £32,600 from 2007-08 and 2011-12.
"But in a bid to defuse the ongoing row over living standards, the Treasury has drawn up its own figures, due to be published in Thursday's autumn statement. They claim that workers' pay has kept pace with growth if rises in employers' national insurance and pensions contributions are included. The Treasury will blame the rise in national insurance introduced by Gordon Brown for the relative slowdown in wages – rather than companies siphoning cash into higher profits."
From the Sun/YouGov poll:
That would give Labour a majority of 76.
Rachel Sylvester, writing in the Times, says: "The Tories are thought of – particularly by women and voters in the North – as lacking compassion."
Steve Richards, writing in the Independent, says: "The power of George Osborne is growing by the day."
Ben Emmerson, writing in the Guardian, says: "It's outrageous to accuse the Guardian of aiding terrorism by publishing Snowden's revelations."
Got something you want to share? Please send any stories/tips/quotes/pix/plugs/gossip to Mehdi Hasan (mehdi.hasan@huffingtonpost.com) or Ned Simons (ned.simons@huffingtonpost.com). You can also follow us on Twitter: @mehdirhasan, @nedsimons and @huffpostukpol