More than 10,000 Ukrainians have already thronged into Kiev's main square Monday morning, after a weekend of violent protests which saw a column of riot police plough through activists and journalists.
Last night, they stormed the city hall in the capital, furious at president Viktor Yanukovych's refusal to sign a deal on closer EU ties, in favour of a closer relationship with Russia.
Protesters on Monday morning fenced themselves into Kiev's Maidan Nezalezhnosti (Independence Square), partly using a row of fake Christmas trees to shield their numbers.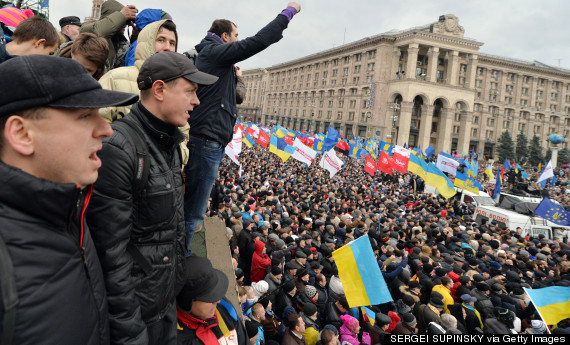 Ukrainian protesters shout slogans as thousands gather for a pro-EU opposition rally at Independence Square in Kiev
It was a jibe at Ukrainian authorities who used the pretext of installing a Christmas tree for the clearing of protesters from the square on Saturday.
Occupiers have spray-painted "Revolution Headquarters" across the front of the city hall, and hundreds are believed to have slept in the building overnight, according to a report by the Guardian's correspondent
British travellers to Ukraine are being urged by the Foreign Office to avoid demonstrations which may turn violent.
Christmas tree barricade declares 'no enemies will pass' #euromaidanpic.twitter.com/Z1UhV36FX5

— James Marson (@marson_jr) December 2, 2013
Christmas tree in Kyiv. 🎄🎄🎄 #ProudUkrainian#Ukraine#Київ#Евромайдан#Kiev#євромайдан#Українаpic.twitter.com/4CpBtL0wtT

— Marianna✌Khomeriki (@mariannamariii) December 1, 2013
Dozens were injured by flying rocks, tear gas and noise grenades used by riot police to disperse crowds of several hundred thousand people, calling for the resignation of the government - including a pair who drove a bulldozer toward police.
TOP STORIES OF THE DAY
"Our plan is clear: It's not a demonstration, it's not a reaction. It's a revolution," Yuriy Lutsenko, a former interior minister who is now an opposition leader, told AP.
Interior Minister Vitaliy Zakharchenko told the US and European ambassadors to Ukraine that the police were provoked by protesters.
"Police understand well that citizens have a right to peacefully express their opinions and gather for peaceful meetings.
"Police do not fight with the population which is standing for its rights without breaking the law.
Ukraine's media watchdog Telekrytyka claimed those covering the protest may have been a target, releasing a list of 40 injured journalists and photographers, including New York Times photographer Joseph Sywenkyj, who was injured when a piece of a sound grenade struck him in the face, the Kiev Post reported.
He was one of several who claimed he had been deliberately attacked, and his photographs destroyed.
The Council of Europe's Secretary General Thorbjørn Jagland said the situation was of "great concern".
"I call upon all parties in Ukraine to refrain from violence and return to peaceful dialogue," he said in a statement Monday morning. He said help would be offered to "resolve the current difficult situation in line with the country's commitments under the European Convention on Human Rights and the principles of democracy, human rights and the rule of law".
In a emotional post on his Facebook wall, the Ukraine's general council in Turkey, Bohdan Yaremenko, called the actions of police "the actions of punishers and occupiers. The actions of fascists."
A few hours later, he posted that he had received a letter from his Ministry, recalling him to Kiev immediately.
Students from Oxford University Ukrainian Society organised their own protest in Radcliffe Square, singing the traditional Ukrainian roundelay "Pidmanula Pidvela" [you tricked me and let me down] around a miniature Christmas tree.
"With our action we wanted to show how the Christmas tree, a symbol of joy and peace for many, has paradoxically become one of police brutality that was used against peaceful protesters," said Pavlo Smitsniuk, one of the demonstration's organisers.