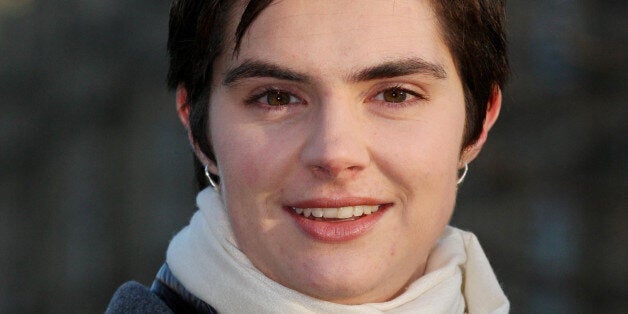 Chloe Smith is a backbench Tory MP and is 31. At just 27 she was elected to parliament. In-between she rattled through jobs as a Conservative Party Whip, a Treasury minister and a Cabinet Office minister. That's a career arc that takes most politicians a lifetime to achieve.
Speaking to The Huffington Post UK, the MP for Norwich North is keen to get stuck into her latest project, convincing young people they need to get involved in politics or they will lose out.
"Inevitably generations have to compete sometimes," she says. "This generation of young people, 18-24 year olds, coming into the world now from education have no choice but to work hard to get on. This is a crucial time to be talking clearly to young people who have a very stark entry into the public world."
"There is the accusation that politicians do bugger all, I make it my personal mission to overturn that," she says. "It's about what we as individuals can do. Your actions really do matter. What you choose to do and the consequences of the stand you take really matters. You can have a voice that is heard and indeed can lead as well. If you care about your community, get in there and lead it."
In the course of the discussion about the "scornful" way in which many young people view not just Westminster, but any engagement in public life, Smith hits upon a neat and timely example of what she wants to see more of.
"Actually for me, my political hero from this week is Tom Daley," she says. "There's a young man who has had the guts to come out and speak the truth." Smith was speaking the week the the 19-year-old Olympic diver decided to announce publicly that he has a boyfriend,
"I think it's extremely courageous and extremely human that he has said what he has said. I also think it shows a great awareness of his own leadership role. Not being afraid to do that. I really hope he is a role model for lots of other young people."
Daley fits nicely into Smith's political philosophy. She is a modernising Tory, firmly in the Cameroon camp, who has the party's "hardworking" slogan tattooed on her answers.
"Also he [Daley] has reminded me of what my party has done as a party that actually is a liberal party," she says. "One that believes in people's right to be themselves. Believes in freedom. Believes in people's enterprise and responsibility to look after themselves. I am proud to be in a party that does that."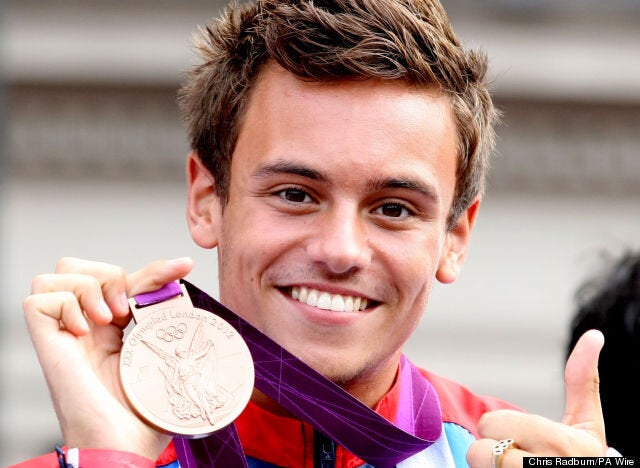 Tom Daley is Chloe Smith's hero
Smith does not believe, as her modernising former ministerial colleague Nick Boles does, that liberal Tories should stand under a National Liberal Party banner in 2015. "I don't think a new configuration of party politics is the answer here." But it's clear that she sees any reversion to social conservatism as unwise.
"I think the party's path is clear, set out by the prime minister and the chairman [Grant Shapps]. I would link this again to the generations. I would link this to the expectation of younger generations that are free live to their own lives as they are. I am in a party that stands for that too."
"Young people have a rightful place at the heart of politics, to make of it what suits them and their generation's values and aspirations," she says.
Smith also had a very abrupt arrival into public life. She had been selected to fight Norwich North at the 2010 general election. But Labour's Ian Gibson resigned in the midst of the 2009 expenses scandal. And suddenly she was thrust into fighting a by-election.
"I remember exactly where I was in that moment," she laughs. "I was working for Deloitte at the time. Somebody in my office came haring round the corner because they'd seen the Sky News ticker and said 'hang on a second, is this one yours?'. I dropped my pen. And said 'yeah, I suppose I better make some phone calls'."
She won the seat with a majority of 7,348. Following the 2010 election Smith served as a Conservative Party Whip. A job she enjoyed. "It's a really good people job. The work I did with Deloitte was all about people, about training and HR." But once again she was caught off guard by a few missed calls from Downing Street.
The story goes that Cameron elevated to the Treasury in September 2011 under the mistaken belief she had been a chartered accountant. When in fact Smith had worked as a management consultant. A tale she declines to comment on. "The call to become a Treasury minister was funny," Smith says. "I was in dark car park in my constituency at the time having been in a school governors' meeting and couldn't answer my phone. I came out to find several messages on my phone from No.10 saying 'please ring'."
"By the nature of things I didn't expect to be involved. It was a great honour to be asked, I said 'yes' obviously. I got stuck straight in and went in to start sussing the place out on Sunday."
Three jobs in three years. What was the high point? "I got the greatest rewards working in the Cabinet Office" where she moved in the 2012 reshuffle. Smith says cites a particular programme she worked on with Francis Maude, who she says she "particularly enjoyed working with", which was designed to stop £10bn of taxpayer's money being "wasted".
She also points to her perhaps little noticed work as a Treasury minister to negotiate decommissioning contracts with oil and gas industry. "It stands to unlock billions of pounds of investment around the North sea. Serious work that delivered serious results."
Smith adds with a laugh, aware of what the next question will be: "Unfortunately, I think my low points might have been highly televised." In 2012 the then Treasury minister endured what might be politely be described as a mauling at the hands of Jeremy Paxman on Newsnight. Smith was pummelled over the government's decision to u-turn on a fuel duty freeze. George Osborne decided not to defend the move himself.
Smith also reveals that all was not well when she stood alongside Osborne on the steps of 11 Downing Street for the traditional Budget day ministerial photograph. The chancellor held his red box up for the cameras, as Smith was nursing a broken foot. "I had patched it up in order to be able to stand in the photograph," she says with a wince and a laugh. "I'd broken it in here running to a vote. Embarrassingly it's true. I'm very happy now to be able to watch a Budget from the comfort of an arm chair."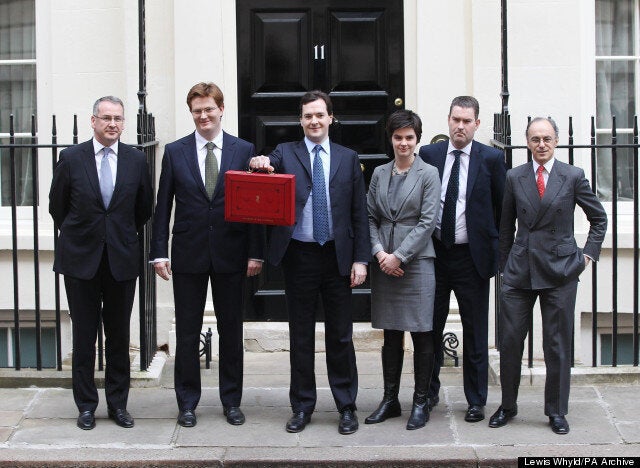 Smith had a broken foot when this photo was taken
But it is also clear that Smith does not intend, unlike some former ministers, to try and break a few ministerial feet now she is on the outside. She remains resolutely loyal.
Smith resigned from her job as a Cabinet Office minister in October on the eve of the last reshuffle. "It was entirely my decision and made several weeks before," she insists. 'And one I was extremely comfortable making and communicating. Obviously it was a difficult decision, you don't make those decisions lightly. But there are many things I'd like to do while in parliament."
She adds: "It's not about me having stepped away in order to rebel against the government line."
Smith is facing a tough reelection battle in 2015. Her 7,348 by-election majority was reduced to 3,901 at the 2010 election. If she exits parliament in 2015, Smith will have had one of the fastest Westminster political rises and falls possible.
Related