Charles Saatchi said he was "utterly heartbroken" to have lost Nigella Lawson, but the TV cook today said her multi-millionaire husband threatened to "destroy" her and left her with "emotional scars" through a campaign of "intimate terrorism".
Ms Lawson confidently strode past the flashing cameramen, photographers and waiting reporters - who had to be penned off due to the sheer numbers - wearing an all-black outfit and high-heeled boots.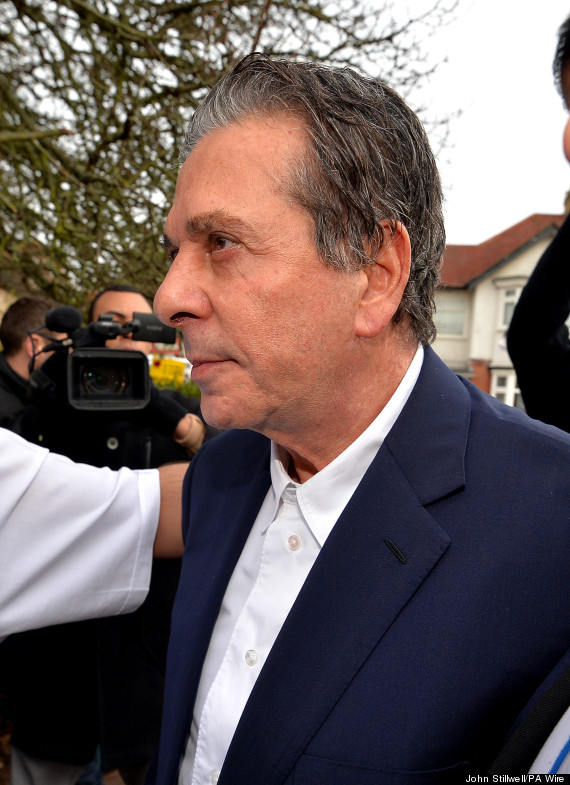 Charles Saatchi arriving at Isleworth Crown Court
The unglamorous setting of Isleworth Crown Court, west London, is the unlikely venue for the high-profile claims, counter claims and revelations to unfold.
Once the hearing was under way, Ms Lawson stood in the witness box for the entire time she was questioned - more than five hours - despite being offered to sit.
Only occasionally did she rest her hands on the wooden surround of the witness box or on her hip for support.
The stuffy courtroom was the stage for the laying bare of Ms Lawson's side to the story of the couple's marriage, subsequent breakdown and her past drug use.
Discussing her past use of cannabis and cocaine, the internationally renowned TV cook spoke openly and candidly about using the class A drug during two phases of her life, although her voice trembled at times.
With more than 30 reporters crammed into court, Ms Lawson said she had endured a "summer of bullying and abuse".
With her voice breaking at times, she told the court she felt that there had been a "witch hunt" and a "campaign" by ex-husband Mr Saatchi against her.
"He had said to me if I didn't get back to him and clear his name he would destroy me," she said.
Ms Lawson said she believes Mr Saatchi had a mindset of "get her, I don't care what it takes" in relation to her and these legal proceedings.
TOP STORIES TODAY
On Friday, the court heard from Mr Saatchi that he just wanted Ms Lawson to be happy.
In contrast to his ex-wife, Mr Saatchi sat for the duration of his evidence, and was repeatedly asked to repeat his answers so the jury could hear him.
He said: "I adore Nigella now.
"I absolutely adore Nigella and I'm broken-hearted to have lost her.
"I wanted her to be happy."
But Ms Lawson told the jury today he felt betrayed by her.
In reference to Mr Saatchi possibly suing her if she did not appear as a witness in this trial, Ms Lawson said it was "just another form of bullying".
She said he was on a campaign to "ruin me in any way", whether financial or otherwise.
"I think he likes everyone to do what he wants," she said.
Ms Lawson told the court Mr Saatchi "punished" her on one occasion for going to a friend's party.
When she was asked by Anthony Metzer QC about the word "pass" used in the now infamous email sent to her by Mr Saatchi in which he accused her of being off her head on drugs, she said: "I had once made reference to a 'pass' because I had been punished for going to a girlfriend's birthday."
Ms Lawson said she had not been beaten, but said she was left with "emotional scars", which were "very wounding and very difficult and of course we know how things accelerated".
The celebrity cook said Mr Saatchi was a "brilliant, but brutal man", and said she had been freed from an "intolerable" situation.
This afternoon, Judge Robin Johnson and Mr Metzer clashed when Mr Metzer wanted to show Ms Lawson a photograph of the incident at Scott's Restaurant.
Ms Lawson pleaded: "Please don't make this go on for two days."
Judge Johnson said: "I'm not having photographs put to this witness."
When asked again about the incident, Ms Lawson said she had already given a direct "almost verbatim" account of what happened, and said she did not intend to speak about it again.
Judge Johnson told Mr Metzer: "You do not have the right to string this out."
Twice adding, firmly: "Move on."
Ms Lawson's wishes of wanting to wrap up her evidence today did not come true.
She left the building and was met by a sea of photographers' flashes - and she faces the same again tomorrow.
Comments are closed for legal reasons