Eurostar is to be sold as part of a radical £20bn privatisation plan for Government financial and corporate assets by 2020.
George Osborne is set to announce a new national infrastructure plan, which will include £375 billion of planned public and private investments to 2030 and beyond.
The plans set out today include a new target for selling off financial assets, doubling the amount from £10 billion to £20 billion including the 40% shareholding in the cross-channel train operator.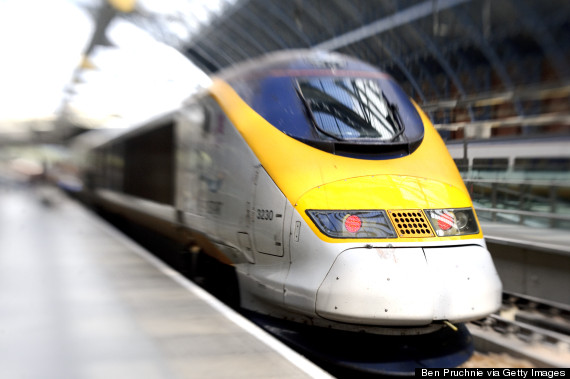 Eurostar at St Pancras International station
Last month Eurostar revealed it had seen an increase in revenues and passenger numbers compared with last
summer.
Sales revenue for the period July-September 2013 reached £207 million - a 10% increase on the same period last year - and passenger numbers in summer 2013 rose 5% to 2.7 million.
Other measures being announced include:
The scrapping of plans to create the UK's first toll road for a decade. Motorists will not be charged to use the A14 between Cambridge and Huntingdon once the improvement scheme, due to start in 2016, is completed.
A further £50 million will be allocated to redevelop the railway station at Gatwick Airport.
A Government guarantee could support finance for the development of a new nuclear power station at Wylfa on Anglesey.
The £1 billion Northern Line extension to Battersea in south west London will also be guaranteed by the Government.
Funding for improvements to the A50 around Uttoxeter in Staffordshire to start no later than 2015/16.
A £10 million competitive fund to open in early 2014 to test ways to deliver superfast broadband to remote areas of the UK.
The planned infrastructure investment has increase from £309 billion last year to more than £375 billion, with 291 of the 646 projects and programmes already under construction.
Treasury Chief Secretary Danny Alexander will unveil the NIP today, alongside Commercial Secretary and former London Olympics chief Lord Deighton.
Alexander will say: "The announcement today that six major insurers will invest £25 billion over the next five years is a massive vote of confidence in the UK economy.
"It supports the wider £100 billion public investment to rebuild Britain over the next seven years that I announced at the Spending Round 2013. Underground, overground, onshore, offshore, wired or wireless, tarmac or train track. You name it, we're building it right now.
"This is great news for the people of the UK because after years of neglect, the UK's energy, road, rail, flood defence, communications and water infrastructure needs renewal.
"It will boost the UK economy creating jobs and making it easier to do business. It will also make the UK a better place to live for everyone who calls it their home."
The decision to drop plans to toll the upgraded A14 has been welcomed by campaigners and follows David Cameron's acknowledgement of the "strong feelings" about the proposal in East Anglia.
RAC Foundation director Professor Stephen Glaister said: "Piecemeal tolling that would raise little money but create a lot of aggravation and delay was always going to be a hard sell and not the best advert for pay-as-you-go driving."
At Prime Minister's Questions last week, Cameron said: "I am well aware of the strong feelings in Suffolk about this issue and I have been approached about it by many Members of Parliament.
"I believe that road tolls can play an important part in providing new road capacity and it is important that we find ways to pay for road capacity, but I also understand the concerns about this individual case."
Shadow chief secretary to the Treasury Chris Leslie said: "With the country facing a cost-of-living crisis we need to invest in infrastructure to create jobs, boost living standards and strengthen our economy for the long term.
"But for the last three-and-a-half years the Government's record on infrastructure has been one of complete failure. The ONS says that infrastructure work is down 3.7% in the last year and fell by 10% in 2012. And in the spending review the Government set out plans to cut capital investment even further in real terms in 2015/16.
"Scheme after scheme has been announced to great fanfare but then little actually delivered. Yet another announcement from ministers about possible future investment will do little to reassure business that warm words will finally translate into diggers in the ground."