One of the two men accused of murdering solider Lee Rigby told police he blamed politicians like "David Cameron, the Miliband brothers, and whathisname, Nick Clegg" as well as the "magic tongue" of Tony Blair, for his actions on that day in Woolwich.
The jury at the Old Bailey heard Michael Adebolajo, wearing a blue towel over his head, say in two separate video interview that it gave them "little joy to approach anybody and slay them".
"I am not a man who enjoys watching horror movies. This is not my character," he said.
Both Adebolajo and Michael Adebowale deny murdering the soldier, attempting to murder a police officer and conspiracy to murder a police officer.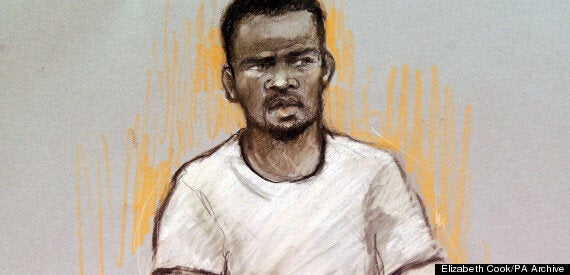 Court artist sketch by Elizabeth Cook of Michael Adebolajo in the dock (file photo)
Adebolajo said there was a "war between the Muslims and the British people", and described himself as a "soldier of Allah".
Asked what happened to Rigby, as he walked from his barracks in south London, Adebolajo said: "He was struck in the neck with a sharp implement and it was sawed until his head, you know, almost detached and may Allah forgive me if I acted in a way that is displeasing to him."
"It's for those people who have not yet understood the nature, the nature of the war that's ongoing and has been on going for some many years between the Muslims and the British people.
"The proof that this war between the people of Britain and the Muslims is that unfortunately it has to be interpreted in this way simply because your leaders, you have leaders who rule over you, unfortunately they rule over you in a very wicked, corrupt, selfish and oppressive manner."
He became increasingly irate as the interview went on, the videos show, speaking for more than 20 minutes, then almost 40 minutes in the second video. When an officer attempts to ask him a question as he describes what motivates him, Adebolajo retorts: "No you may not. When I finish you may speak"
Towards the end of the video, the jury saw Adebolajo violently attempting to leave the room, as police officers shout at him to sit down. Picking up his Koran, he shouted: "Do not tell me to sit down! I'm finished with this guy."
Adebolajo had earlier said he was not ashamed to be British, to have been educated here and said he had had a decent life. But now, he said: "That word British is now associated with murder, pillaging and rape."
"I am particularly disgusted by the likes of David Cameron, the Miliband brothers and - what's his name? - Nick Clegg," he said.
But the main target of his ire was Tony Blair, who had been "using magic of the tongue to dodge very important questions."
Cameron was "trying to emulate the footsteps of Tony Blair as if he worships him," Adebolajo said.
Consultant forensic psychiatrist Tim McInnerney, who assessed Adebolajo at King's College Hospital on three occasions, said in a statement to the court that he did not believe he had a mental illness, had not taken drugs or been feeling unwell.
He "showed no signs of regret or remorse" about what happened and would be a "continuing risk to the British military," McInnerney said, adding that Adebolajo's actions were based on his "religious beliefs and because British soldiers were killing people in the Middle East."