Nigella Lawson walked defiantly into court on Wednesday, wearing towering heels and a serious expression, as she prepared to give evidence in the trial of two of her former personal assistants.
The TV cook is a prosecution witness in the trial of Italian sisters Elisabetta and Francesca Grillo.
The pair are accused of abusing their positions by using credit cards loaned to them by Ms Lawson and her former husband Charles Saatchi to spend more than £685,000 on themselves.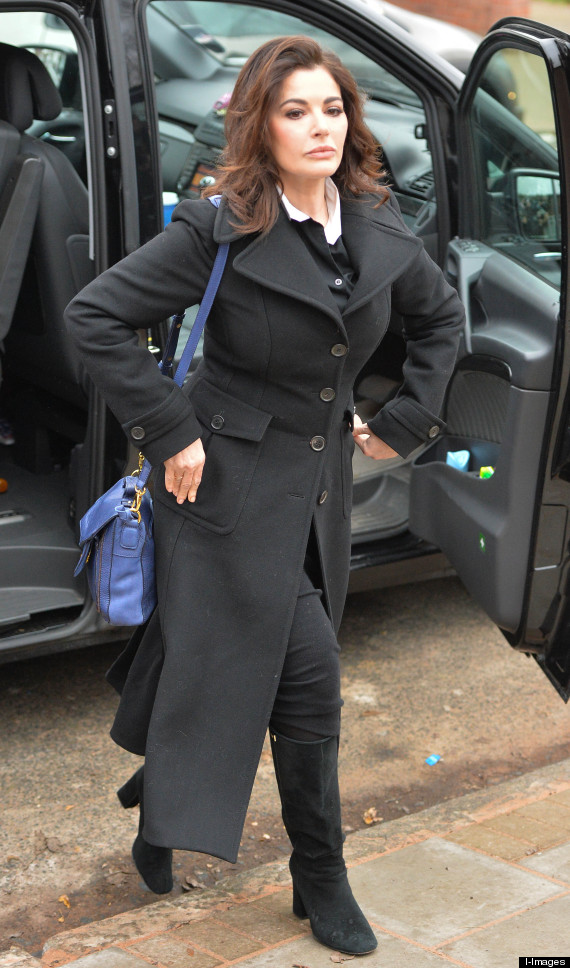 Nigella Lawson arrives at Isleworth Crown Court
Lawson, wearing a long dark coat, was greeted by dozens of photographers and television crews waiting outside Isleworth Crown Court in west London as she arrived this morning.
TOP STORIES TODAY
Prosecutors in the trial claim the Grillo sisters lived the ''high life'', spending the money on designer clothes and handbags from Louis Vuitton, Christian Dior and Vivienne Westwood.
Elisabetta, 41, sometimes referred to in court as Lisa, and co-defendant Francesca, 35, both of Kensington Gardens Square, Bayswater, west London, deny committing fraud, which is said to have taken place between January 2008 and last December.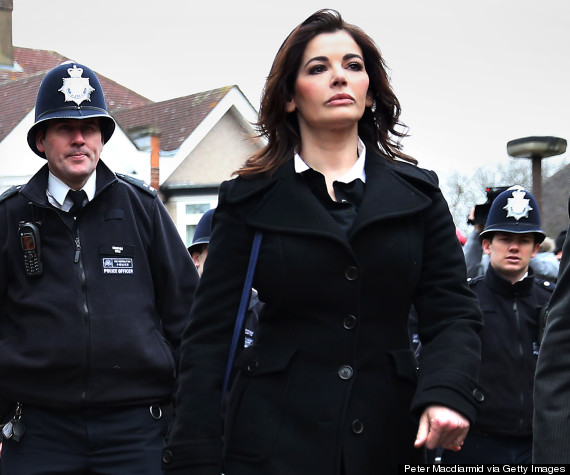 Italian sisters Francesca and Elisabetta Grillo, who worked as assistants to Nigella Lawson and Charles Saatchi, are accused of defrauding them
On Friday, as Saatchi gave evidence, jurors listened to details of the breakdown of the multi-millionaire and Lawson's 10-year marriage were played out in the courtroom, taking centre stage over the allegations against the defendants.
The Saatchi Gallery owner said it was a ''terrible, terrible mistake'' that a private email he sent to Ms Lawson, referring to her as ''Higella'', and claiming she had been off her head on drugs, has been made public.
''I'm utterly bereft that this private email to Nigella has come back to haunt us both," he said.
Saatchi, who went through a high-profile divorce from the food writer earlier this year, told the court: ''I adore Nigella now. I absolutely adore Nigella and I'm broken-hearted to have lost her. I wanted her to be happy.''
Saatchi, 70, looked exasperated as the now-infamous incident outside Scott's restaurant in Mayfair, central London, where he was photographed holding Ms Lawson by the throat, was brought up at least twice during cross-examination.
Anthony Metzer QC, representing Elisabetta, asked whether it was during an argument about her taking drugs.
''I accepted a caution for assault,'' he said.
''I was not gripping, strangling or throttling her. I was holding her head by the neck to make her focus, can we be clear?
''Was it about her drug use? No.''
Asked by Metzer to explain what he meant in the email he sent Lawson on October 10, in which he said he could ''only laugh at your sorry depravity'', Saatchi said: ''I was very upset. I wasn't laughing, I was broken-hearted.''
Jurors heard the email went on: ''Of course now the Grillos will get off on the basis that you ... were so off your heads on drugs that you allowed the sisters to spend whatever they liked and yes I believe every word the Grillos have said, who after all only stole money.
''But I'm sure it was all great fun and now everything is perfect - bravo, you have become a celebrity hostess on a global TV game show. And you got the Pass you desired, free to heartily enjoy all the drugs you want, forever. Classy.''
Questioned about the drug-taking allegations, Saatchi told the court: ''It was hearsay. I personally have absolutely no knowledge that Nigella has ever taken a drug ever.
''I don't like drugs at all and I didn't like reading what the Grillos said was the culture in my house.''
During intense questioning from Metzer later on, Saatchi said: ''Are you asking me whether I think that Nigella truly was off her head?
''Not for a second. Over this whole period she was writing books very successfully.
''I have never, never seen any evidence of Nigella taking any drug whatsoever.''
Saatchi described the ''Higella'' reference as a ''silly pun'