The father of Formula 1 star Lewis Hamilton has told a High Court judge that "unfounded" allegations by another racing driver had "damaged" his "good reputation".
Driver manager Anthony Hamilton told Mrs Justice Asplin how Paul Di Resta's allegations of "fraud and incompetence" had a "serious effect".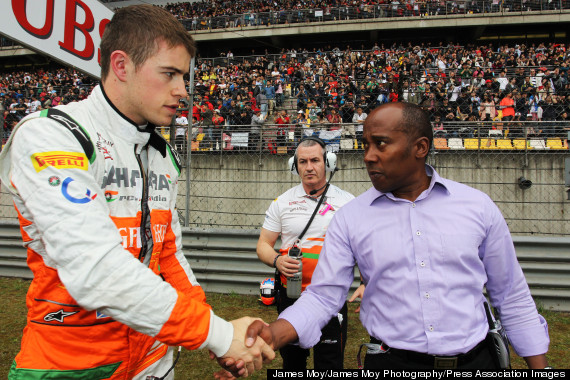 Anthony Hamilton (right) says he is finding it 'incredibly difficult' to find new work in F1
Mr Hamilton had managed Mr Di Resta - who drives for the Sahara Force India Formula 1 team - and claims that their "agreement" was wrongfully terminated.
Mr Di Resta, 27, is disputing his claim at a trial in the High Court in London.
Mr Hamilton gave evidence at the hearing on Wednesday and said he had invested a "lot of my time and money" in pursuit of a Formula 1 drive for Mr Di Resta.
"I had been led to believe that I would be rewarded both financially and with loyalty," said Mr Hamilton in a witness statement.
"Unfortunately this did not happen and I am now no longer managing Paul. As a result I have found it incredibly difficult to find new work in Formula 1 since Paul's wrongful termination of the driver/manager agreement.
"In this litigation Paul has made allegations of fraud and incompetence against me, which has attracted a lot of bad press and has had a serious effect on my family and my business.
"Paul's allegation is completely unfounded. it has damaged my good reputation in the sport."
Mr Di Resta has told the judge in a witness statement that Mr Hamilton had failed to deliver sponsorship.
"Anthony simply had insufficient contacts, insufficient staff and resources, was not taking a professional approach to seeking sponsorship for me," said Mr Di Resta.
"He was not discussing any strategy surrounding sponsorship with me ... he wholly failed to deliver."
He said Mr Hamilton had said he was looking at a "top team" for 2013 and added: "Whilst he was talking a good game, he wasn't actually delivering anything."
And he said "things simply had not worked out".
The hearing continues.
Comments are closed for legal reasons