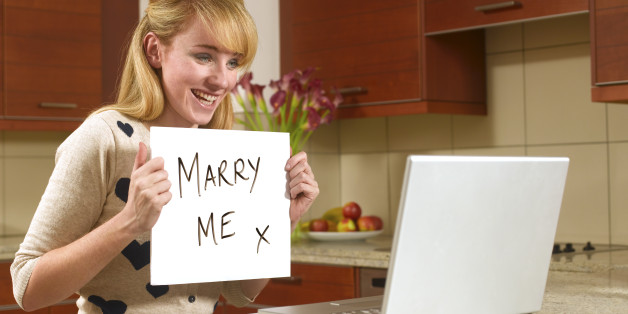 Peter Dazeley via Getty Images
Online dating is a becoming a pretty big thing in studentville now, so it's only natural there's going to be a few weird and wacky anecdotes.
Fortunately, one such site ShagAtUni.com has leaked its 10 weirdest requests and stories from students during the past 12 months so we can share for your pleasure.
SEE ALSO:
Watch out people, there's some weirdos out there...
1. One clearly homesick 18 year old fresher at Leicester University felt compelled to message the site's Facebook account in order to request help with finding more girls that would help him cook, shop and clean his flat. He also sent in a picture of his mother in order to highlight the characteristics of his ideal girl.
2. A 20 year old student from Bath University tweeted the Shag at Uni account about a man she had met up with the night before for a casual meeting. However, after discovering he had exaggerated about the size of his manhood, she left his flat and demanded that the site check the size of each male member's "equipment" in order to make sure she wasn't duped again.
3. One particularly studious site member wrote in to ask whether or not the Shat at Uni team could tailor the website in order to highlight the average grades and predicted degree results of his potential dates. His reason for doing so? He claimed he was looking for an intelligent wife on the site and didn't want to marry, or have intercourse with, someone who would finish with 2:2 degree or below.
4. Whilst enjoying dinner with another Shag at Uni member, one student in Leeds was a little taken aback when her date suddenly stood up and deserted in her a nice restaurant without explanation. He later messaged her to reveal his disgust at the fact she had put ketchup on her fillet steak, as well as his phobia of the condiment.
Story continues below gallery..
5. One 19 year old from London Metropolitan University made it known to the site that he was disappointed with the presence of body hair during one hook-up with another member, especially as she had previously informed him she undertook "regular bikini waxes".
6. One individual studying in Aberdeen got in touch with the site via email looking for fellow animal lovers after she met up with one student for some fun earlier this year. She was left disappointed after he refused to let her dog and two cats remain in the bedroom during their alone time, as the idea of them watching "freaked him out" too much.
7. A male student from a university in Southampton emailed the website to inform the team that he felt he was "far too good looking" for the female members on the site; using this as a reason to defend the fact he'd had no interest from other members. He explained that people must have felt "intimidated" by his good looks.
8. A 21-year-old female student from Liverpool sent a message to the Shag At Uni team on Facebook to complaint that her sex life had become "too good" since signing up and that her studies were suffering as a result.
9. A fresher at the University of Birmingham sent in an email to ask that all members of the website stated any allergies on their profile pages. He explained that when using chocolate body paint with his "date" for the evening, she ended up suffering an allergic reaction to the product and he had to drive her to A&E.
10. One male student from the University of York said that a girl he'd met through the site came round to his halls for a "night of passion", but he quickly asked her to leave after they were undressing and he realised that her dress was from a supermarket clothing range and not a designer collection.