The father of Formula 1 star Lewis Hamilton has told a High Court judge about the limits of his "moral compass".
Driver manager Anthony Hamilton told Mrs Justice Asplin that he would not do "anything illegal" and would not lie for a client. But he said he would "swerve the truth".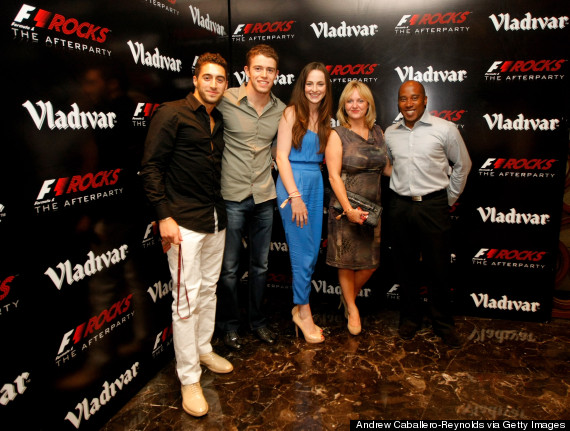 Anthony Hamilton (right) with Paul Di Resta (second left) at an event for the 2011 Indian Grand Prix
He was giving evidence at a High Court trial in London after suing racing driver Paul Di Resta - who he used to manage - for wrongful termination of a contract.
Mr Di Resta, 27 - who drives for the Sahara Force India Formula 1 team - disputes his claim.
Mr Hamilton was asked by a lawyer representing Mr Di Resta if he would "lie" for a client.
"With their authority and for their benefit," said Mr Hamilton. "Just to be clear. There is lying and there is swerving the truth. I wouldn't lie for any client but I would swerve the truth for a client."
He was asked if he would "mislead" and said he would for the benefit of a client.
"I aim to use whatever I am entitled to do legally to get a better deal for my client. I am not prepared to do anything fraudulent," said Mr Hamilton.
"My moral compass says I would not do anything illegal for anybody else to put my own reputation in jeopardy."
Mr Hamilton has told the judge how Mr Di Resta's "unfounded" allegations of "fraud and incompetence" had a "serious effect" on him.
"In this litigation Paul has made allegations of fraud and incompetence against me, which has attracted a lot of bad press and has had a serious effect on my family and my business," he has said in a witness statement.
"Paul's allegation is completely unfounded. it has damaged my good reputation in the sport."
And on Thursday Mr Di Resta's lawyer said two "important" electronic devices - a BlackBerry phone and an iPad - which might contain relevant information had gone missing.
The lawyer suggested that their disappearance gave rise to a "suspicion" that Mr Hamilton had "tampered with evidence".
Mr Hamilton told the judge: "I have not tampered with any evidence."
He suggested that the devices were in a box which had vanished during a house move.
Mr Hamilton said a box containing towels worth £1,000 had also vanished.
He said he "absolutely no idea" how many towels were in the box and told the judge: "My wife bought the towels. I got the bill."
Mr Di Resta has told the judge in a witness statement that Mr Hamilton had failed to deliver sponsorship and had talked a "good game" but not delivered. He said "things simply had not worked out".
The hearing continues.
Comments are closed for legal reasons