More than 40 arrests have been made in the past two days at student protests in London, with a video emerging of what appears to be a police officer punching a protestor in the face.
University of London students participated in the "cops off campus" demonstration, which took place on Thursday, following the police's use of force against students who occupied the office of the University of London's vice chancellor on Wednesday.
Warning: video contains strong language
The video, filmed outside Senate House, emerged on Wednesday evening
London Assembly Member and Green Party peer Jenny Jones said: "It's very worrying that the police feel free to try to suppress protest in this way. The students are concerned citizens, exercising their democratic rights, and the police should be ensuring their safety, not making them less safe.
"The police seemed to escalate things rather than calming them down - that's very bad policing.
"I shall ask the Met Commissioner about the police tactics and how he can justify them."
The Met Police confirmed 41 arrests had been made over the past two days, telling The Huffington Post UK: "There were around 200 to 300 people at the demonstration on Thursday, which started at 3.30pm and migrated to Euston Square tube station. Protesters had brought home-made shields, while homemade bombs and other objects were thrown at the police."
On Thursday, two were arrested for assaults on police, while a further 34 were arrested for affray and disturbing the peace. During the demonstrations outside the University of London on Wednesday, five were arrested, with one person charged for an assault on a police officer.
Story continues below gallery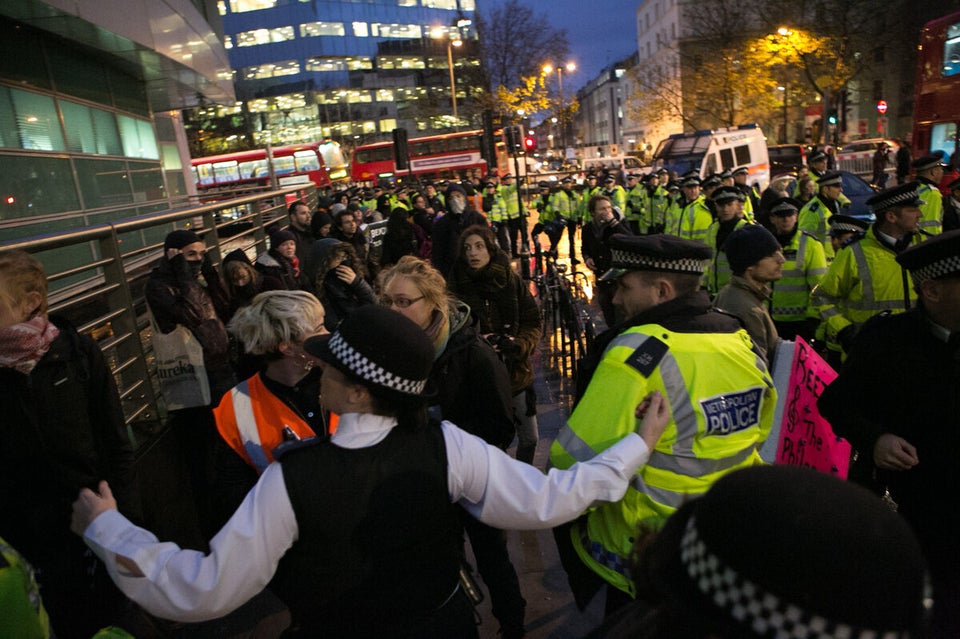 Cops off campus protest
The Met added no complaint had been made about the video.
Michael Chessum, president of University of London Union, said: "There was an unprecedented level of police violence on campus. It was a transparent attempt to assault, intimidate and deflate protest, and it will not work.
"We will only come back stronger."
The London Student tweeted a picture of its editor Oscar Webb appearing to be arrested by police, despite showing his press card.
Warning: video contains strong language
Comments have been closed due to legal reasons