The Queen has said she is "deeply saddened" to learn of Nelson Mandela's death, saying the former South African president "worked tirelessly for the good of his country".
A statement from Buckingham Palace said: "The Queen was deeply saddened to learn of the death of Nelson Mandela last night. He worked tirelessly for the good of his country, and his legacy is the peaceful South Africa we see today.
"Her Majesty remembers with great warmth her meetings with Mr Mandela and sends her sincere condolences to his family and the people of South Africa at this very sad time."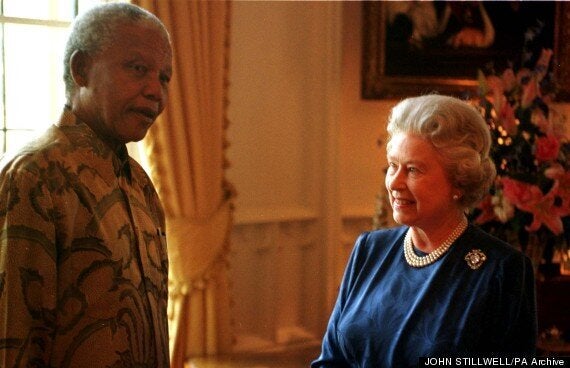 The Queen with President Nelson Mandela of South Africa during his visit to Windsor Castle before travelling to Cardiff for the beginning of the EU Summit
The Prince of Wales also paid tribute to the former South African leader.
He said: "Mr Mandela was the embodiment of courage and reconciliation. He was also a man of great humour and had a real zest for life.
"With his passing, there will be an immense void not only in his family's lives, but also in those of all South Africans and the many others whose lives have been changed through his fight for peace, justice and freedom.
"The world has lost an inspired leader and a great man. My family and I are profoundly saddened and our thoughts and prayers are with his family."
On Thursday evening, David Cameron led tributes to Mandela, saying "a great light has gone out in the world".
The flag at No 10 will be flown at half-mast in honour of the former leader, who was a "hero of our time", the Prime Minister said.
Former prime minister Tony Blair said the political leader was a "great man" who had made racism "not just immoral but stupid".
"He was a unique political figure at a unique moment in history," he said.
Labour leader Ed Miliband called his work to unite South Africa in the face of personal hardship and oppression "extraordinary".
He said: "The world has lost the inspirational figure of our age. Nelson Mandela taught people across the globe the true meaning of courage, strength, hope and reconciliation."
Former prime minister Gordon Brown called Mandela "the greatest leader of our generation", saying he was "a leader of magnanimity, fortitude, unshakeable optimism and most of all, the most courageous man I ever met".
The Archbishop of Canterbury, the Most Rev Justin Welby, said: "South Africa has lost its greatest citizen and its father. Nelson Mandela, fighting to the end, is freed to be with his God in joy and reward for his great service and sacrifice...
"We are challenged to show the same degree of humanity, of courage and of generosity."
Deputy Prime Minister Nick Clegg said: "Our thoughts go out to the people of South Africa who will be left heartbroken by this sad news."
Baroness Betty Boothroyd, the former Commons speaker, fondly recalled the memories about a visit President Mandela made in 1996. "I welcomed many leaders to Westminster when I was Speaker but he was by far the most remarkable.
"His speech to the joint Houses of Parliament in Westminster Hall in 1996 was a masterpiece of reconciliation after the bitter years of apartheid. He represented 'an outstanding victory of the human spirit over evil', I told him."
London mayor Boris Johnson said: "When the definitive history of our time is written, the name Mandela will stand taller than most - perhaps tallest of them all.
"Nelson Mandela understood the most powerful tool at his disposal was the power of forgiveness. He faced down the tyranny and oppression of apartheid by embracing unity, by rejecting division, by proving without rancour or recrimination that his way was the right way, the best way, and the only way to bring about change.
David Miliband, president and CEO of the International Rescue Committee, said Mandela's life shows how "personal character, values and personality at the top can make and break nations".