It has been a miserable day for thousands of air travellers after a computer problem caused chaos at airports around the UK.
At 7.30pm on Saturday, the National Air Traffic Service said the glitch had been repaired, but delays were set to continue.
Airlines including Ryanair vented their fury at the service, while passengers took to Twitter to express their frustrations.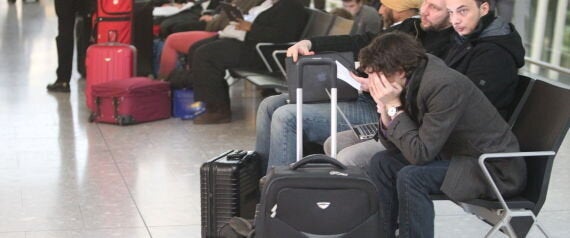 Thousands of passengers were stranded
Thousands of people were caught up in the chaos, which hit major airports including Heathrow, Stansted and Gatwick.
Nats' night-time operating system, which combines sectors of airspace for when it is less busy, did not properly switch over to the daytime system, causing a communication problem with the centre's internal telephones. They stressed that safety was not at risk at any time.
At 7.30pm on Saturday, a Nats spokesman said: "The problem that arose this morning with the ground communications system in the area control operations room at Nats Swanwick has now been resolved and operations are returning to normal."
It insisted: "This is not simply internal telephones".
The problem occurred when the 23 controllers on a night shift at Swanwick handed over to the 125 controllers on the day shift at about 6am. It was not until 7.30pm that Nats announced the problem had been fixed.
Nats said that by 4pm they had handled 2,576 flights compared with the 2,905 flights that were dealt with at the same time last week, meaning that they were operating at about 88% of normal capacity.
Ryanair called for action to prevent it happening again. In a statement, the airline said: "Ryanair is calling on the Civil Aviation Authority to intervene and prevent further chaos for thousands of passengers affected by this ATC failure. While we acknowledge problems can occur, where is the contingency? It's simply not good enough and the CAA needs to act now."
Heathrow Airport was the worst affected, with 228 cancellations - 112 in arrivals, and 116 departures, with most being short-haul flights. A spokesman for the airport said the cancellations represented 15% of their usual daily total of 1,300 flights going in and out of the airport.
Some passengers at the airport dozed on the floor while others lined up in long queues to rebook their flights, with customers reporting they had to wait for up to five hours to speak to a representative from their airline.
Danny O'Donoghue, lead singer with The Script and a judge on BBC talent show The Voice, wrote: "Stranded @ the airport , anyone got any suggestions on passing time ...."
Twitter user @simonhartley wrote: "Darn NATS. Stuck in Madeira airport with at least five hour delay home so far :(."
And @MMorrissey wrote: "My flight to NY delayed but chaotic scenes here. In 20 yrs of business travel, never seen Heathrow in this state when there's no snow!!"
The Civil Aviation Authority said customers were entitled to assistance from their airline if they had been delayed for several hours, including being given food and drink, often provided in the form of vouchers.
For short-haul flights, passengers should receive help if the delay is more than two hours. That rises to three hours for medium-haul flights of 1,500km to 3,500km, or of longer than 1,500km within the EU. For long-haul flights, passengers should receive assistance once the delay is over three hours.
The CAA advised people to contact their airline to discuss individual cases.