Pressure ramped up ahead of next week's X Factor final - with the emotion getting the better of one of the show's youngest contestants.
Nicholas McDonald, who recently turned 17, wept during his performance of Beyonce's Halo during the semi-final of the ITV show, making his voice crack in parts and leaving the judges disappointed.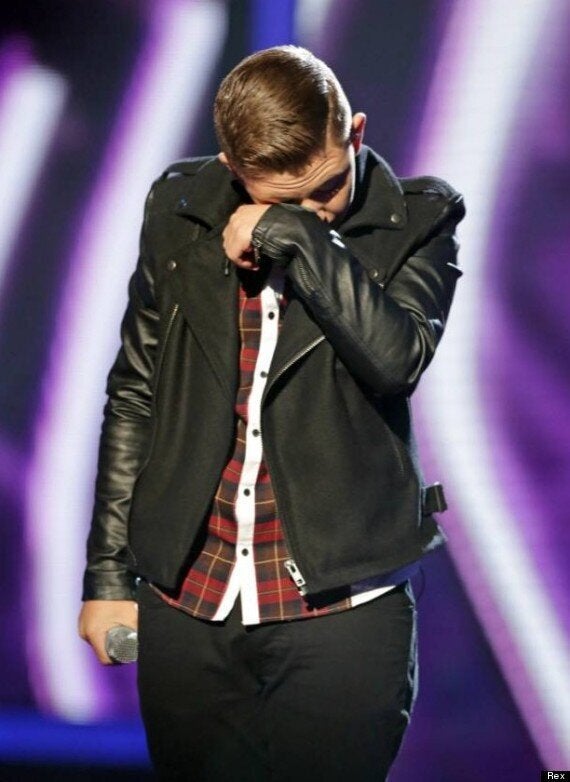 Nicholas McDonald breaks down
The four final acts - McDonald, Luke Friend, Rough Copy and Sam Bailey - each had to choose a song by Beyonce and one by Sir Elton John to secure their places in the final three.
Scottish singer McDonald appeared nervous and was asked by judge Sharon Osbourne: "Tell your mother everything - now, why are you crying?"
The teenager replied that he was overwhelmed by reaching the semi-final stage, adding: "I never thought I'd get this far."
Osbourne admitted the performance was "emotional", but told the singer: "Your tears made your voice crack, little one."
Take That star Gary Barlow admitted that McDonald was not at his usual best but urged him to improve for his second song of the night.
WATCH Nicholas' performance in full below...
It seems McDonald took those words of advice to heart, winning praise for his version of Sir Elton's Don't Let The Sun Go Down On Me.
Emotions were also high after mother-of-two Bailey's performance of Candle In The Wind, which left Osbourne speechless and almost made Nicole Scherzinger swear.
The former Pussycat Doll quickly corrected herself however, insisting she had been saying the words "shiitake mushroom".
Scherzinger told Bailey she could not wait to see her in the final, while Barlow described her singing as "beautiful" and "flawless". Her first song, Beyonce's If I Were A Boy, was also well received, with Louis Walsh saying she could win the whole competition.
Friend kicked off the show with Beyonce's Best Thing I Never Had, following it with Sir Elton's Something About The Way You Look Tonight. Barlow said he was impressed by Friend's originality and said he had improved the most out of all of the show's contestants.
Scherzinger said she thought Friend's Beyonce performance sounded like a cross between One Direction and Mumford and Sons - but it was not clear if she meant that as a compliment.
Rough Copy, the last remaining group, took on Destiny's Child's Survivor and Sir Elton's Sorry Seems To Be The Hardest Word.
They were told by Scherzinger they brought "excitement" to the contest, while Walsh told them there was a "massive gap in the market" in the UK for a band like them.
The contestants will have to wait until Sunday night's show to find out if they have done enough to reach the final.
Related