Remember the restaurant customers who refused to tip a lesbian waitress because of her sexuality? Well, there's been a few twists.
Dayna Morales made headlines around the world when a photo of a receipt of the incident went viral.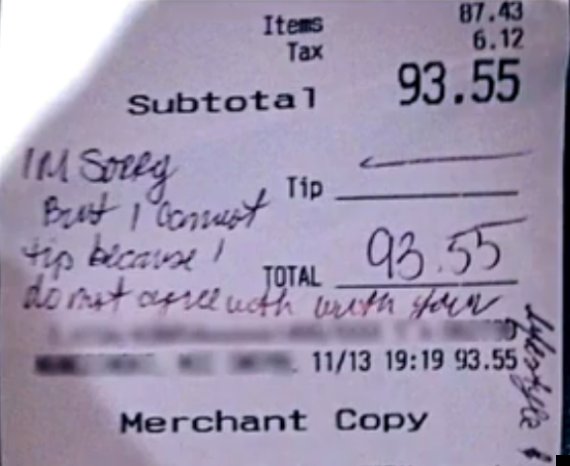 "Sorry I cannot tip because I do not agree with your lifestyle & the way you live your life"
Morales even received thousands of pounds in donations from the public which she vowed to donate to charity - only she didn't.
A number of revelations soon came to light - including the customers in question who provided evidence they had in fact left a tip.
A subsequent investigation by the Gallop Asian Bistro into the incident proved inconclusive but it was agreed Morales would leave her job.
An investigation by NBC also found Morales had fibbed about serving in the Marines and also having brain cancer.
It certainly puts a new perspective on comments she had made initially.
"NEVER in a million years did I think this would happen,' Morales said, in an email to Have A Gay Day.
"THIS is what her kids will grow up learning and that I served in the Marines to keep ignorant people like them free."
"Sorry lady but I don't agree with YOUR lifestyle and the way you're raising your kids but you didn't see me throwing that in your face and giving you shitty service.
"Keep your damn mouth shut and pray we never cross paths again."
Some of those who donated money have said their money has been returned.