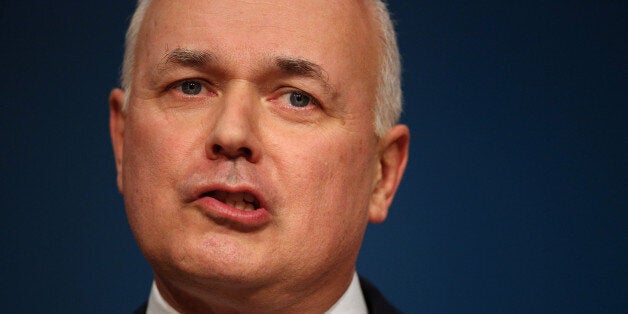 Iain Duncan Smith has blamed Tory party headquarters, party chairman Grant Shapps, journalists from right-wing papers and Labour "moaning" for causing "fear and alarm" about his welfare reforms.
In a tense grilling before the Work and Pensions committee, Duncan Smith rejected accusations that the coalition's abuse of statistics to misrepresent the welfare system caused "fear and alarm"
Duncan Smith said that Conservative Campaign Headquarters (CCHQ) had "conflated" figures to get such a figure, insisting that the Department of Work and Pensions (DWP) did not know they were coming out.
The Work and Pensions secretary dismissed "out of context" reports that in April he said claimants were getting in early to claim disability living allowance to avoid new medical tests as part of the personal independent payment system, which were reported by papers like the Telegraph and the Sun.
Duncan Smith's ill-tempered appearance before MPs came as he disclosed last week that his 2017 target for the full introduction of the coalition's flagship Universal Credit welfare scheme is set to be missed - with around 700,000 claimants facing a longer wait.
He went on to accuse Labour committee member Debbie Abrahams of "moaning", after she asked him: "Do you feel you're in control of your department?"
In response to her questioning, Duncan Smith insisted that "there's no debacle with universal credit". Speaking alongside him, DWP finance director general Mike Driver said the DWP had to write off £40.1 million in software and computing costs in the delayed process of bringing in Universal Credit.
Duncan Smith said the project was "within budget" adding: "We could not do it unless the equipment we were building was up and working."
Asked if further write-offs could be expected the Cabinet minister said: "If anything goes wrong going further forward that might be different."
But he added: "We have had to sit for some time while a lot of bogus nonsense has been talked about huge levels of additional write-offs. This note in front of you absolutely finishes that and ends it.
"The reality is what our estimate was earlier on when we first put in to the National Audit Office and this total figure are very close together.
"This has been one of the most complex and detailed assessments that has taken place either in the public or private sector. It is now signed off and tomorrow will be published."
He added: "I think it's quite important to recognise that it's not just about the write-offs, it's that we own an asset which will deliver Universal Credit, something which has not been reported on."
Labour's work and pensions spokeswoman Rachel Reeves said earlier today: "For months on end, the Government have tried to avoid answering questions about Universal Credit but these OBR figures tell the truth of how (they) have broken their promises on a spectacular scale.
"They have been forced to admit that they have completely missed their targets and Universal Credit will not now be rolled out before the election.
"David Cameron and Iain Duncan Smith are presiding over a complete mess and it is taxpayers who are picking up the bill with at least £100 million of their money written off."
The prime minister's official spokesman told a regular Westminster media briefing: "The Secretary of State is leading this very important programme of welfare reform which is so important to the economy and is the right thing to do on the grounds of fairness as well.
"The roll-out of Universal Credit was designed to be a gradual process, which enables the project to take on board findings from pilots. That's absolutely the right thing to be doing."
The Universal Credit reforms are intended to help people back into work, with the DWP planning to roll it out to eight million households.
Additional reporting from the Press Association
Popular in the Community