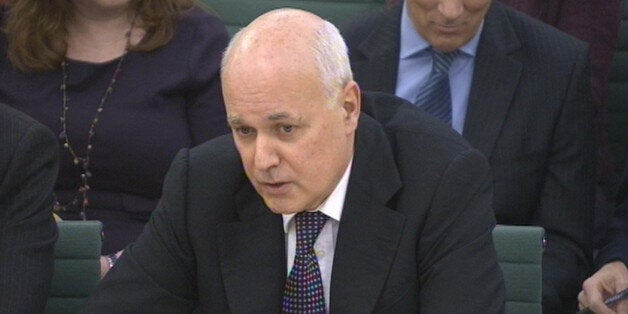 Iain Duncan Smith has insisted he has the confidence of George Osborne, amid accusations he is in "denial" over the problems facing his flagship benefit reforms.
The work and pensions secretary disclosed last week that his 2017 target for the full introduction of Universal Credit is set to be missed - with around 700,000 claimants facing a longer wait. He was accused of trying to bury the bad news by releasing the details on the same day as George Osborne delivered his Autumn Statement.
And yesterday Duncan Smith was also forced to admit that more than £40 million spent on IT for the project had been written off.
Speaking in the Commons today, Labour shadow work and pensions secretary Rachel Reeves said: "The secretary of state is in denial, doubtless he will deny he is in denial in a moment's time. Until he 'fesses up no one will have any confidence in his management of this programme."
Angrily defending his handling of the programme, which he said was being implemented carefully to avoid waste, Duncan Smith said he took "full responsibility" for everything in the department.
"Universal credit is worth doing and worth doing properly because of the benefits it brings," he said. "I have more credibility than the other side who wasted money galore."
He said Labour was "nit-pick away about this programme" and had "lost billions and billions" of pounds while in government itself.
However he drew jeers and laughter from Labour MPs when he said the programme was "essentially" going to be on time - as he had previously claimed it would be delivered on budget and on time.
An unnamed minister described as close to Osborne told The Times today: "There are some ministers who improve in office and others, like IDS, who show they are just not up to it."
Pressed on the implication that the chancellor had doubts about his ability to manage his department, Duncan Smith told MPs: "We have the confidence of the Treasury."
In a recent book detailing in the inner workings of the coalition, Osborne was said to have told an aide: "You see Iain giving presentations and you realise he's just not clever enough."
Asked about Duncan Smith's position on Tuesday morning, a spokesperson for David Cameron said: "The prime minister thinks that the secretary of state has been doing - and continues to do - a very, very important job."