After years of knocking on the door, rally driver Kris Meeke has at last landed the job he has coveted - a full year on the World Rally Championship as a works driver.
The Northern Ireland man will become the first British driver to compete a full WRC season with a leading factory team since rally legend Colin McRae in 2003 when he joins Citroen for their 2014 campaign. Kris Meeke joins a team which has dominated world rallying for more than 10 years
"It's an incredible opportunity," 34-year-old Meeke said. "I'm really lucky to be able to work with a team that has so much experience and so many titles. I think I've got some potential, but I still need to get some experience under my belt.
"The Citroën DS3 WRC is a terrific car and I'm going to be able to use the team's knowledge to help me improve. I know that I'll have to be patient in the first half of the season and learn all about the rallies that I haven't done before."
The news is a huge boost for British motorsport and in particular, British rallying, which has not had a front-running driver in the WRC since the days of McRae and Richard Burns more than a decade ago, both of whom became world rally champions, McRae in 1995 and Burns in 2001.
Sadly both have since died, but before his death in 2007 McRae had pinpointed Meeke as a talent of the future and begun to nurture and mentor him.
Meeke won the Intercontinental Rally Championship in 2009 with Citroen's sister company, Peugeot, and secured a place with MINI for their partial WRC campaign in 2011 but lost the seat for the next year because of financial problems. This year he was given the opportunity to drive for Citroen in two WRC events - Finland and Australia. He crashed out of both, seemingly blowing his chance of winning the works place until the French team's announcement.
The news was welcomed by the organisers of Wales Rally GB, Britain's round of the WRC, just a few weeks after this year's event which was regarded as its most successful in years with huge crowds flocking to Wales.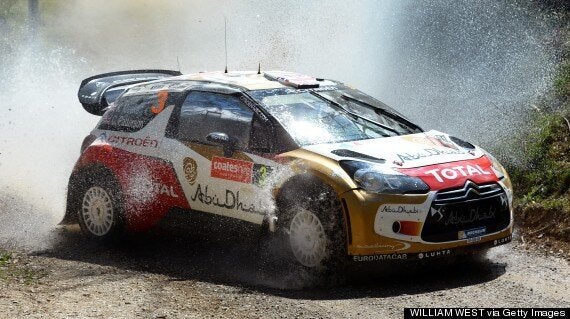 Kris Meeke competing for Citroen on Rally Australia 2013
"What an amazing turn around," Andrew Coe, Chief Executive of Wales Rally GB organiser International Motor Sports, said.
"Only a few months ago there were those fearing for the sport's future in this country – now we not only have one of the finest rounds on the WRC calendar but also a British driver back in a front-running factory outfit.
"Ever since the glorious days of Colin McRae and Richard Burns, we've been desperate to see one of our drivers back in a top team – now that day has come."