Nelson Mandela's coffin has arrived at South Africa's capital Pretoria for public viewing, where his remains will lie in state for three days.
The streets were lined with people who had gathered to watch the procession make its short journey from Military Hospital to the Union Buildings.
Thousands of people expected to pay their respects to him every hour, according to local media.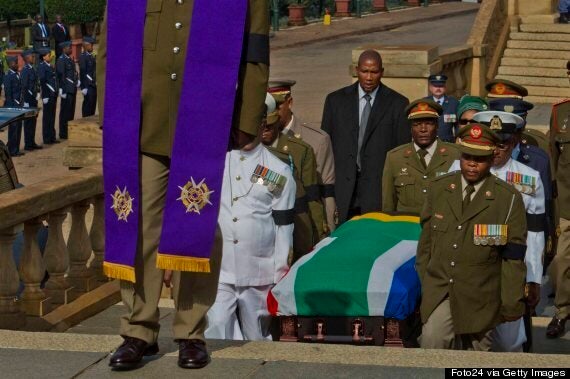 Mandla Mandela watches Nelson Mandela's coffin at the Union Buildngs
Meanwhile a public memorial service in London today will remember the life of the anti-apartheid leader.
The service will be held at St Martin-in-the-Fields in Trafalgar Square from 10.30am at the request of the South African High Commission, feet away from the church.
The two share strong links and were the scene of freedom vigils for Mandela during his incarceration.
Speaking at the service will be Sir Sydney Kentridge QC and Lord Joffe of Lidington, who both represented Mandela at his treason trials, and campaigner and African National Congress veteran Mama Thembi Nobhadula.
Mandela will be moved to his final resting place on Sunday, when he will be buried at his childhood village of Qunu in Eastern Cape Province.
The Prince of Wales will be among a smaller number of dignitaries travelling to the remote rural location for that service.
The US president spoke of the "heroic" life of the South African leader, describing him as the "last great liberator of the 20th century" and compared his actions to those of Mahatma Gandhi, Abraham Lincoln and US civil rights leader Martin Luther King.
But he also warned against viewing Mandela as detached from normal life.
"He was not a bust made of marble, he was a man made of flesh and blood," Obama told the crowds.
"It was precisely because he could admit to imperfection, because he was so full of good humour, even mischief despite the heavy burdens that he carried, that we loved him so," he said.
"Nothing he achieved was inevitable. In the arc of his life, we see a man who earned his place in history through struggle and shrewdness and persistence and faith."
Obama's speech came after he shook hands in the stadium with Cuban president Raul Castro, the first such greeting in public involving a president of the US since the Cuban revolution. The former US president Bill Clinton reportedly shook hands in private with Raul's brother Fidel behind closed doors at a UN lunch in 2000.
During the service in the two-thirds filled stadium, boos were heard for the current South African president Jacob Zuma and the former US president George W Bush. But there were cheers for Obama and for Zimbabwean president Robert Mugabe.
Those attending included Prime Minister David Cameron and his three surviving predecessors, Sir John Major, Tony Blair and Gordon Brown.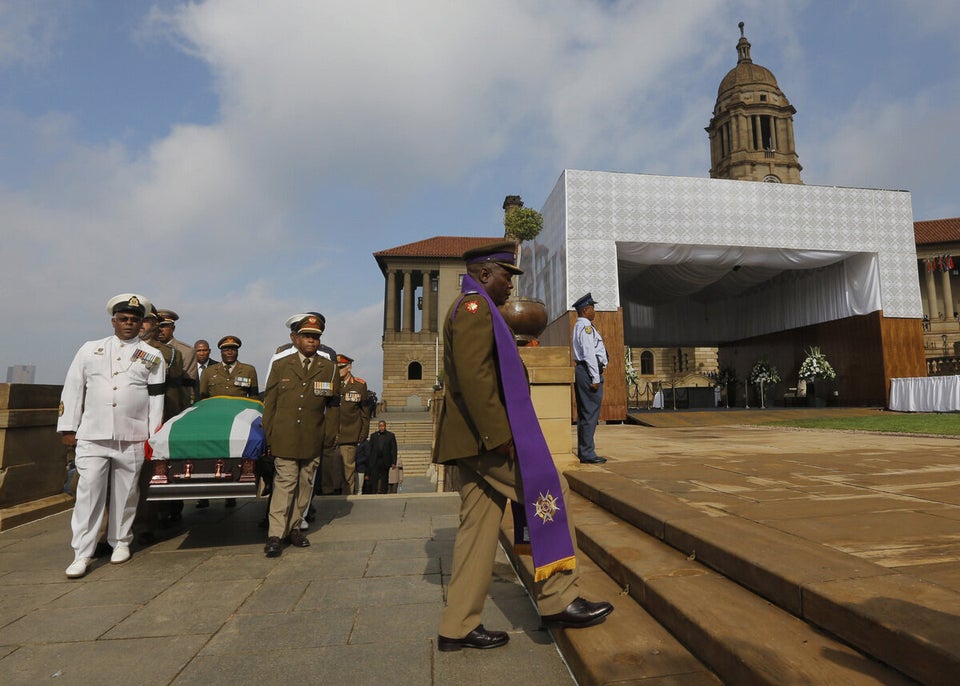 Nelson Mandela Coffin Moved To Lie In State