UFO detection just got easier, thanks to well, this UFO Detector.
Should you or your loved ones be preoccupied with the little green men of the cosmos, it could make the perfect Christmas gift.
For sale on Amazon.com, the UFO Detector "continually monitors its surrounding area for any magnetic and electromagnetic anomalies."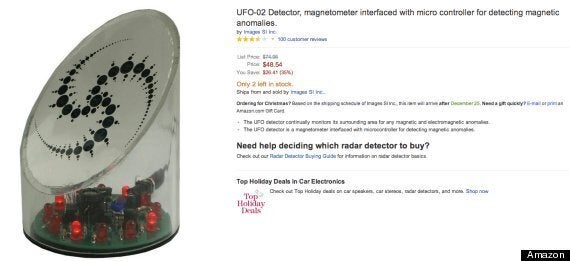 The UFO Detector is advertised as a 'handsome sculptured conversation piece'
Should the UFO Detector encounter any electromagnetic disturbances, it will beep and 16 (yes, SIXTEEN) LED lights will simultaneously flash, signalling the certain arrival of extraterrestrials.
The product description reads:
"More than 1/3 of Americans believe in UFO's and one in 10 Americans believe that they have seen a UFO according to a study by National Geographic Channel. UFO sightings are reported all over the planet by thousands of people. The real question is whether UFO's are interstellar vehicles visiting Earth? Most UFO sightings can be classified as misidentified aircraft, planets or other aerial phenomena, but not all of them. There is a small percentage of UFO sightings that can't be explained by any known aircraft or natural phenomena. It is this small percentage of UFO sightings that create an exciting possibility. Over the years real UFO sightings have reported simultaneous electromagnetic disturbances."
But there's more – not only is it useful, but it comes in an "elegantly designed transparent plastic case" which doubles as a "handsome sculptured conversation piece."
The 100 online customer reviews are a mixed bag it must be said, with R.J Reid writing: "This little gizmo is a bargain at twice the price and much more accurate than the voices in my head."
However "Cyphis" was left distinctly unimpressed: "I don't know if this is a scam or if mine was broken, but it doesn't work and I am still getting abducted by UFOs on a regular basis."
The price has been slashed from $74.95 to $48.54, (around £30) making this the ultimate Christmas bargain – but hurry… at time of press there were only two left…