It was a photo hailed as a symbol of peaceful protest.
But the picture of a young Italian woman kissing the helmet visor of a riot officer might have landed her in trouble.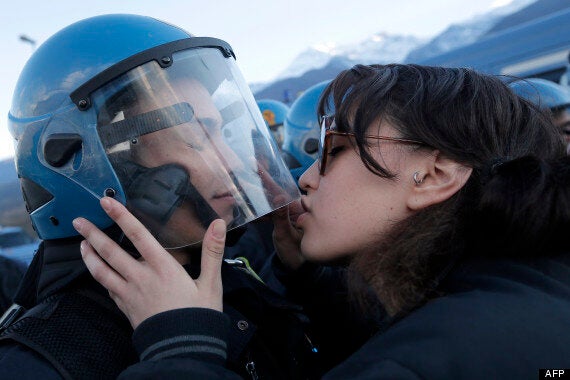 A heartwarming image or 'sexual violence'?
Union official Franco Maccari confirmed he expected an investigation to be launched after the complaint was lodged.
"If the policeman had kissed her, world war three would have broken out," the Telegraph reporting him saying.
"Or what if I had patted her on the behind? She would have been outraged.
"So if she does that to a man on duty, should it be tolerated?"
De Chiffre's gesture, which went viral, came during demonstrations against a high-speed rail link with France.
To be fair, 20-year-old De Chiffre did not sound conciliatory in comments posted on her Facebook page.
"No peace message," she wrote.
"I would hang all these disgusting pigs upside down."
She claimed she had witnessed a fellow protester being beaten by police.
Related