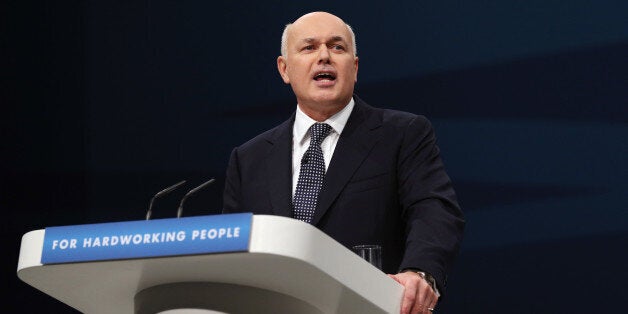 The five things you need to know on Friday 13 December 2013...
1) SPEAK ENGLISH OR LOSE BENEFITS
This government enjoys nothing more than cracking down on either benefit claimants or migrants - so imagine an issue which allows you to do both. It would have the relevant minister doing cartwheels, right? Especially if that minister is Iain Duncan Smith.
'Speak English or lose benefits,' says the splash headline on the front of the Telegraph, which explains:
"Migrants whose English is judged to be so poor that they would struggle to find work in Britain could be denied benefits, Iain Duncan Smith has announced.
"The Work and Pensions Secretary said the Government was overhauling the test that enables migrants to claim benefits to prevent them from taking advantage of the welfare system.. However, the change is likely to bring Britain into further conflict with the European Commission, which is already suing Britain for requiring European Union immigrants to pass a test it claims is unlawful before they can claim benefits.
"Mr Duncan Smith said that the move was both legal and necessary to protect Britain from 'benefit tourists'."
The problem is that there aren't many 'benefit tourists' around, as most independent studies and reports reveal. Also, as an EU diplomat tells the paper, IDS will need some "good lawyers": "It seems the Government wants to step up the fight. I hope Mr Duncan Smith has good lawyers or Britain could be paying some big fines. Discriminating against people on the basis of language would be illegal."
Hmm, not sure pesky things like laws can stop 'the quiet man' of politics...
2) DEAR UNCLE, YOU'RE DEAD
North Korea gets weirder and weirder, bloodier and bloodier. From the Times:
"The once-powerful uncle of North Korean leader Kim Jong-un has been executed after being purged for "acts of treachery", state media said today.
"Amid a flurry of insults and accusations Chang Sung Taek, suffered a spectacular fall from grace as dramatic as anything from the Imperial families.
"Until recently Chang was seen as a guiding force to his 30-year-old nephew as he consolidated power in the tiny Communist state."
And there you were thinking Ed Miliband was ruthless for challenging and beating his brother David in the Labour leadership election. Check out Kim Jong-un's approach to mixing family with politics...
"Controversial plans for a highspeed rail link between London, Manchester and Leeds must go ahead to meet future passenger and freight demands and help economic growth, according to an influential group of MPs.
"The Parliamentary Transport Select Committee has given the Government's contentious HS2 project a vital vote of confidence but has also urged that construction works on the northern part of the scheme start earlier than planned.
"The committee, led by Louise Ellman, a Labour MP, said the company in charge of delivering HS2 should 'look seriously' at building from the north downwards, at the same time as construction work starts in London."
BECAUSE YOU'VE READ THIS FAR...
Watch this video of a kid impersonating Elvis Presley. It will make your day.
4) COMPASSIONATE CONSERVATISM? NOT QUITE
"A fresh attack on Britain's welfare budget was announced by George Osborne as he told MPs he would prefer to cut benefits than slash the size of the state to its smallest since the 1940s.
"In a calculated challenge to Labour in the runup to the next election, the chancellor said many more billions would need to be shaved from welfare to avoid deeper cuts in spending by Whitehall departments.
"'Welfare spending can't be excluded from the difficult decisions,' the chancellor told a hearing of the Treasury select committee into last week's autumn statement."
The vast majority of the welfare budget goes on pensioners, off course, not the unemployed, yet the PM and the chancellor have indicated that pensioners would be exempt from any benefits cap. So why the obsession with cutting more and more benefits from the poorest and most vulnerable members of our society?
"The chancellor sees welfare as one of the defining political issues at the next election in 2015, and believes his hardline approach will create difficulties for the Labour opposition."
5) NOT SO INNOCENT ABROAD
Who says Homeland is a work of complete and utter fiction, eh? Check out this headline from the Associated Press:
"Robert Levinson, American Missing In Iran, Was Working For CIA"
In March 2007, retired FBI agent Robert Levinson flew to Kish Island, an Iranian resort awash with tourists, smugglers and organized crime figures. Days later, after an arranged meeting with an admitted killer, he checked out of his hotel, slipped into a taxi and vanished. For years, the U.S. has publicly described him as a private citizen who traveled to the tiny Persian Gulf island on private business.
But that was just a cover story. An Associated Press investigation reveals that Levinson was working for the CIA. In an extraordinary breach of the most basic CIA rules, a team of analysts — with no authority to run spy operations — paid Levinson to gather intelligence from some of the world's darkest corners. He vanished while investigating the Iranian government for the U.S.
"It is of regret when people in public office comment about a person who is involved in a trial which is in progress" - the judge hearing the trial of two former personal assistants to Nigella Lawson and Charles Saatchi slaps down the prime minister for making positive comments about Lawson in a Spectator interview.
From the Sun/YouGov poll:
That would give Labour a majority of 46.
@timloughton Tomorrow I can be found around the constituency wearing a Santa suit in aid of @StBarnabasHouse go to work as a Santa day
@jimmurphymp This Jo'burg Question Time crowd makes the Glasgow audience seem positively ambivalent. Brilliant.
@JeromeTaylor The seemingly arbitrary execution of Kim Jong-un's uncle is only what thousands of his own people suffer every year.
Gavin Kelly, writing in the Guardian, says: "Stealth cuts are making universal credit toxic to the working poor."
Fraser Nelson, writing in the Telegraph, says: "The truth about the NHS is a bitter pill."
F.W. De Klerk, writing in the Times, says: "Why Mandela owed a huge debt to Thatcher."
Got something you want to share? Please send any stories/tips/quotes/pix/plugs/gossip to Mehdi Hasan (mehdi.hasan@huffingtonpost.com) or Ned Simons (ned.simons@huffingtonpost.com). You can also follow us on Twitter: @mehdirhasan, @nedsimons and @huffpostukpol
Popular in the Community