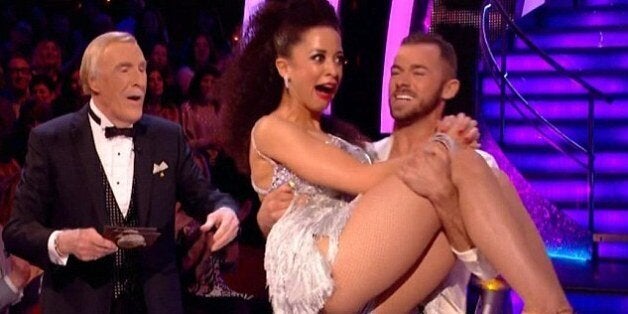 Model Abbey Clancy and actress Natalie Gumede are the queens of the dance floor - for now - as they received the joint best scores of the 'Strictly Come Dancing' semi-final.
The five remaining celebrities performed two routines each, with the two women both winning 78 points and each getting a maximum 40 out of 40 for their first dance.
Bottom of the leader board after tonight's show was 'Casualty' actor Patrick Robinson and professional partner Anya Garnis with 69 points.
But ahead of the dancing, head judge Len Goodman said: "This is the tightest semi-final we've ever had. Any one of you five remaining ones could win it and anyone could go home tomorrow night."
First on the floor was former 'Coronation Street' star Gumede and her partner Artem Chigvintsev, who wowed the judges with their salsa to Michael Jackson's Wanna Be Starting Something.
Bruno Tonioli told them: "You just had that sense of teasy and flirty fun - all the ingredients for a fantastic salsa."
Craig Revel Horwood said: "That's the most animated I think I've ever seen you. Just wonderful to watch, it was brilliant." While Darcey Bussell described the routine as a "fabulous performance".
Gumede, who said she had "never felt so alive" since being part of the BBC1 show, got 38 points for her second routine, an Argentine tango, described as a "wonderful dance" by Tonioli. Goodman told her: "You sizzled out there".
Clancy began with a salsa before being swept across the floor by partner Aljaz Skorjanec in an American Smooth.
The model-turned-TV presenter, who ahead of tonight's show said she was nervous to the point of being ''hysterical', said she was now "desperate to be in the final".
"I just don't want it to end, it's just been the most amazing, amazing experience of my life," she added.
But she should have been reassured, as Tonioli told her: "You've got the whole package," while Revel Horwood said of her second dance: "It was full of charisma and you really have an enormous amount of style. You're so watchable, I adore watching you."
Goodman added: "I'll see you in the final."
Singer Sophie Ellis-Bextor's paso doble and American Smooth earned her and partner Brendan Cole 71 points.
Her paso doble, to Dance Of The Knights by Russian composer Sergei Prokofiev - well known as the opening music to Sir Alan Sugar's the Apprentice, was criticised as being "starchy and stiff" by Revel Horwood.
But Bussell said: "That music is so close to me and to be able to equal that passion and drama is so difficult, but for me you gave power that I haven't seen you bring to a dance before. I wanted to be on there with you."
She received a 35 while her American Smooth impressed the judges more, earning the pair 36 points.
Although Revel Horwood received boos from the audience as he said that Ellis-Bextor looked like she only felt confident when she was being led in Cole's arms.
BBC Breakfast presenter Susanna Reid achieved 70 points, describing the requirement to learn two dances this week as "twice the fun".
Her first with partner Kevin Clifton earned them 38 points, with Bussell telling her: "You are shining again".
Revel Horwood said it was "sickly, saccarine, sweet - all the things I detest darling, but I have to say the dancing was magnificent", while Tonioli, described her as "the nation's sweetheart at her charming best".
Goodman added that the TV host was "what this show is all about".
Later her salsa was praised by the head judge for its "energy" but criticised for being a "tad messy", earning her a score of just 32.
Robinson's first routine was "gorgeous" and "absolutely magnificent" according to Revel Horwood and described as a "charming waltz" by Bussell, winning him 36 points.
But his Argentine tango did not earn him such high praise from the judges, with Bussell telling him: "There was attack there but there was no grrrrr."
With a cheeky smile, she added: "You've got a nice bottom but you've got to tuck it in."
Among those in the audience was Jack Osbourne, despite his mother, Sharon Osbourne being a judge in tonight's X Factor, which is now in its final weekend.
Other Strictly fans include Prime Minister David Cameron, who tweeted his support ahead of tonight's semi-final. "Best of luck to @bbcstrictly semi-finalists. I welcomed @SophieEB @OfficialClancy & @susannareid100 to No10 this week," he wrote.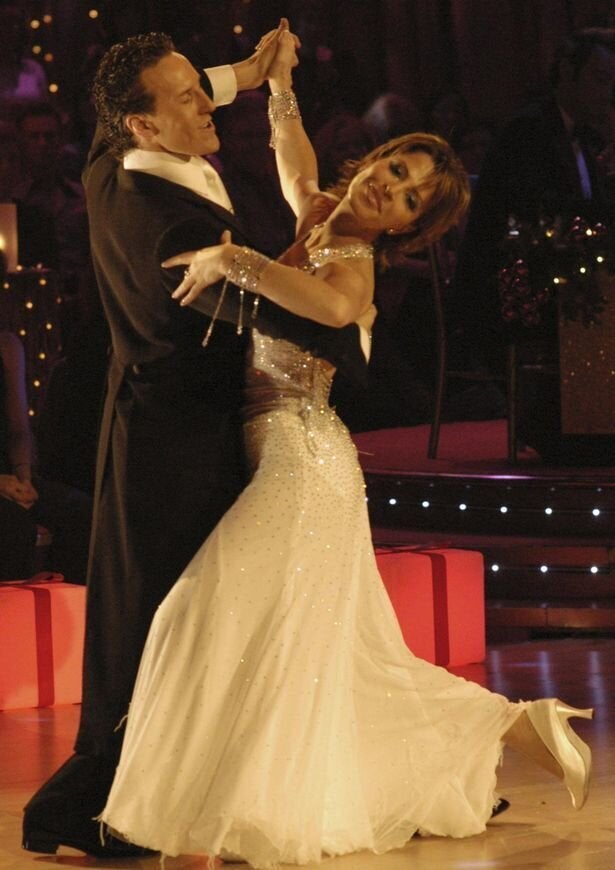 'Strictly Come Dancing': Winners