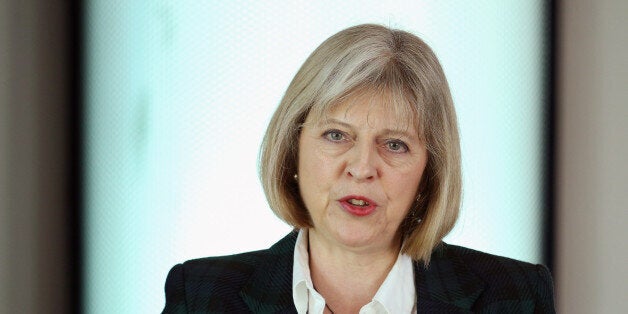 The five things you need to know on Sunday 15 December 2013...
Is this the end of 'free movement of labour' and 'open borders' within the EU? From the Sunday Times splash ('May goes to war over EU migrants'):
"The government has raised the prospect of a 75,000 cap on annual EU immigration as part of a radical change in Britain's relationship with Europe. A leaked government report on the effect on Britain of the EU's "open borders" policy suggests net migration from EU countries could be slashed by 30,000 from the current 106,000 a year by means of a cap.
"The Home Office paper on free movement of people, which has been seen by The Sunday Times, highlights proposals suggesting professionals and high-skilled migrants from countries such as Germany, Holland or Austria could move here only if they had a job offer. Lower-skilled workers would be allowed into Britain only if they had jobs on an approved national shortage job list."
We await a 'robust' response from EU diplomats and lawyers...
The Sunday newspaper front pages seem to suggest that there are lots of populist 'wars' the Tories want to fight - from the Mail on Sunday splash:
"Downing Street has drawn up controversial plans to slash up to £5 billion a year from the welfare bill by limiting child benefit to families' first two children.
"Under the proposal, revealed today, families would also lose their entitlement to child tax credit for any more than two children.
"The change would mean parents with three children, who would currently be entitled to child benefit because their annual income is less than £50,000, would lose out on £696 a year."
The proposal comes from a piece written by backbencher Nadhim Zahawi who was recently appointed to the Number 10 policy board and is also a close ally of chancellor George Osborne. Once again, the Tories want to divide the poor into 'deserving' and 'undeserving'; once again, politicians perpetuate the myth that the majority of welfare spending goes on benefits for the poor and out of work, rather than benefits for pensioners and the elderly.
3) WAR ON GRAMMAR SCHOOLS
That's the headline on the front of the Observer. And who's fighting it? Not left-wing academics or Labour backbenchers but the coalition-favoured head of Ofsted:
"The chief inspector of schools, Sir Michael Wilshaw, has launched a scathing assault on England's 164 state-funded grammar schools and their supporters for holding back poorer pupils from getting on in life.
"Wilshaw hit out at the selective schools for being 'stuffed full of middle-class kids' and dismissed growing calls for more grammars in the wake of a damning international report on standards in schools. The head of the Office for Standards in Education said demands for more grammars should be ignored, as they serve the top 10% of the population at the expense of the poorest.
"... In comments that put him on a collision course with education secretary Michael Gove, who has expressed support for grammar schools, Wilshaw said: 'Grammar schools are stuffed full of middle-class kids. A tiny percentage are on free school meals: 3%. That is a nonsense. Anyone who thinks grammar schools are going to increase social mobility needs to look at those figures. I don't think they work.'"
BECAUSE YOU'VE READ THIS FAR...
Watch this video of a husky playing 'whack-a-mole' with a... kitten!
4) WAR ON LAZY MPS GOES WRONG
"The Sun newspaper has offered an apology to Manchester's Labour MP Lucy Powell after it included her on a 'top 10 lazy MPs list' while she was on maternity leave.
"The list, which has now been removed from the paper's website, sparked outrage after it also allegedly included a seriously ill MP.
"The Sun's list was compiled 'in terms of turning up to vote in the Commons'.
"According to the BBC, Ms Powell said she had continued to work while pregnant but did not go to London to vote.
"'Of course, I've had a few months off from Parliament this year because I've been on maternity leave and I've had a baby,' she said."
Poor ol' Sun, eh? Imagine such a thing happening to such sticklers for accuracy...
5) WAR ON SELFIES - CAMERON TO THE RESCUE
"Thorning-Schmidt was so embarrassed by the furore that she secretly pledged to destroy the image. But Cameron has pleaded with her to auction it for charity.
"During a private conversation last week, Cameron suggested to Thorning-Schmidt that it could raise a substantial sum.
"A source familiar with the exchange said: 'Helle wanted to delete it, but Cameron urged her not to. He pointed out that it could raise a lot of money.'"
SOS, as the Sunday Times put it: 'save our selfie'.
Incidentally, I wonder if Cameron feels the same way about that infamous Bullingdon Club photo that's no longer available...
From the Sunday Times/YouGov poll:
That would give Labour a majority of 76.
@johnprescott So Tory MP @nadhimzahawi, who used taxpayers money to heat his stables, suggests child benefit cuts #fourlegsgoodthreekidsbad #warmhorse
@Sun_Politics Our apologies to @LucyMPowell for including her on list of the 10 laziest MPs while on maternity leave. Story taken down + under review.
@Mike_Fabricant Saw 'Philomena' last night. Shows Steve Coogan can act, Judi Dench wonderful & Roman Catholic Church in Ireland unforgivable. #Mustsee
Andrew Rawnsley, writing in the Observer, says: "The Tories and the Lib Dems plot their coalition endgames."
Adam Boulton, writing in the Sunday Times, says: "Don't smile, PM, it wasn't a week to remember."
Nadhim Zahawi, writing in the Mail on Sunday, says: "If she can't afford a third child, why should you foot the bill?"
Got something you want to share? Please send any stories/tips/quotes/pix/plugs/gossip to Mehdi Hasan (mehdi.hasan@huffingtonpost.com) or Ned Simons (ned.simons@huffingtonpost.com). You can also follow us on Twitter: @mehdirhasan, @nedsimons and @huffpostukpol