Modern day "slave-owners" and human traffickers should face life sentences, with punishment aggravated for rape, a forceful new report has said.
The Modern Slavery Bill Evidence Review, chaired by Frank Field MP "sets out a blueprint for a new Act that will establish Britain, once again, as a world leader in the fight against modern slavery," its authors said in a statement.
The draft Bill, which was announced by Home Secretary Theresa May at the Conservative Party conference this year, will consolidate into a single act the numerous offences used to prosecute those who exploit "modern day slaves".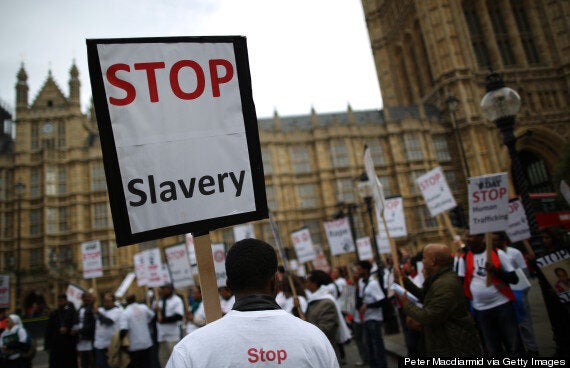 Anti-slavery activists rally outside Parliament
Labour MP Field said in a statement: "The report encourages the Government to make the most of the opportunity that it has created for itself.
"I urge her [the Home Secretary] to 'reach for the stars' in creating a Bill which delivers all that 'world leader status' promises."
But Shadow home secretary Yvette Cooper said she would "like to see the Bill go further - particularly to provide stronger legal protection for child victims".
"It is appalling that two-thirds of children found by the authorities after being held as slaves go missing again because the system to protect them isn't strong enough.
"Failed once by those who betrayed them into slavery, they are failed again by the state in not protecting them. Trafficked children should have access to a trusted and independent advocate, or guardian, who is legally responsible for them and their interests.
"There is a growing coalition of support behind this new policy, from the charities and frontline practitioners to campaigners in Parliament. We need tough action to stop traffickers, but prosecutions will fail, justice will be denied and slavery will continue unless there is more support for victims too."
In the report, there is a provision for a new distinct child trafficking offence which recognises the specific vulnerability of children and ensures that non-sexual exploitation of children is better recognised as a crime.
The report, commissioned by the Home Secretary, also allows the assets of those who have profited from human trafficking to be seized, and those assets to go to helping victims and police.
The rules that grant visas to Overseas Domestic Workers are too easily abused and must be reviewed, to ensure exploited workers can more easily escape from oppressive employer, the report said.
A Modern Slavery Commissioner should be established, the report says, to be a voice for victims, with the power to suggest further legal and policy changes.
Christian Guy, the Director of the Centre for Social Justice, said: "The CSJ is delighted to have been part of the Modern Slavery Bill Review process. This Bill presents an exciting opportunity to push forward the UK's response to this crime, which as we have seen in recent cases is very much present in the UK.
"Alongside wide-ranging policy reform, which is laid out in the report, this Bill has the potential to make a tangible difference not just in Britain, but across the world as other nations see our progress."
Anthony Steen, Review Advisor and Human Trafficking Special Envoy for the Government, said: "We must put the welfare of victims first if we are to win the battle against modern-day slavery in Britain."
Nearly 30 million people around the world are living as slaves, according to the Global Slavery Index 2013.
It is estimated that there are between 4,200 – 4,600 people enslaved in the United Kingdom. A report in October by the inter-departmental ministerial group on human trafficking revealed that 1,186 victims were referred to the authorities in 2012, compared with 946 victims in 2011. The largest number were from Romania, Vietnam, Nigeria, Albania and China.