Peter O'Toole, who shot to fame in the Oscar-winning epic Lawrence of Arabia, has died aged 81.
His agent Steve Kenis confirmed on Sunday evening that the actor had died following a long illness. O'Toole, who announced only last year that he had retired from acting, had overcome stomach cancer almost 40 years ago.
O'Toole was a relative unknown when he was cast in the 1962 film of TE Lawrence's life. Peter O'Toole, as Lawrence of Arabia
His major Hollywood hits that followed included Goodbye Mr Chips, The Lion in Winter and My Favourite Year.
He held the record for having eight Oscar nominations but no wins, finally given an honorary Academy Award in 2003.
He graciously accepted the honorary award, quipping ''Always a bridesmaid, never a bride, my foot,'' as he clutched his Oscar statuette.
O'Toole nearly turned down the award, sending a letter asking that the Academy of Motion Picture Arts and Sciences hold off on the honorary Oscar until he turned 80.
Hoping another Oscar-worthy role would come his way, O'Toole wrote: ''I am still in the game and might win the bugger outright.''
He earned his eighth best-actor nomination for 2006's Venus, in which he played a lecherous old actor consigned to roles as feeble-minded royals or aged men on their death beds.
''If you fail the first time, try, try, try, try, try, try, try again,'' O'Toole said in a statement on nominations day.
The best-actor prize that year went to Forest Whitaker for The Last King Of Scotland.
He was married to actress Sian Phillips, with whom he had two daughters and was divorced in 1979. He had a son with model Karen Brown in 1983.
O'Toole's daughter, actress Kate O'Toole, said: "His family are very appreciative and completely overwhelmed by the outpouring of real love and affection being expressed towards him, and to us, during this unhappy time. Thank you all, from the bottom of our hearts,"
"In due course there will be a memorial filled with song and good cheer, as he would have wished.
"We will be happy to speak to you all then but in the meantime if you could give Peter O'Toole the respect he deserves and allow us to grieve privately we'd appreciate it.
"Thank you all again for your beautiful tributes - keep them coming."
O'Toole retired from showbusiness last year, saying in a statement that it was time to ''chuck in the sponge''.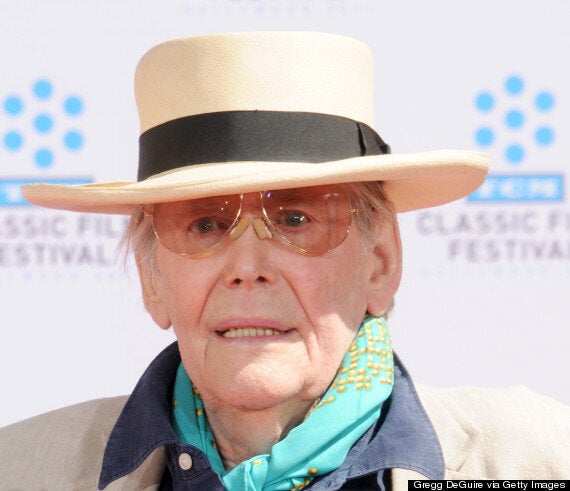 Peter O'Toole poses as his hand and footprints are enshrined in concrete at the Grauman's Chinese Theatre on April 30, 2011
He went into acting after serving in the Royal Navy, studying at London's Royal Academy of Dramatic Art.
His early stage successes included the lead in Hamlet and Shylock in The Merchant of Venice.
No living person is sure whether his birthplace was Connemara, Dublin, or Leeds.
Prime Minister David Cameron said his thoughts were with O'Toole's family and friends.
"His performance in my favourite film, Lawrence of Arabia, was stunning," he said.
Comedian Stephen Fry said: "Oh what terrible news. Farewell Peter O'Toole. I had the honour of directing him in a scene. Monster, scholar, lover of life, genius."
Irish actor Jason O'Mara described O'Toole as "an acting legend and a hell raiser".
"His last act of defiance was living to see 81, but the work will live on forever. RIP Peter O'Toole," he said.
Comedian David Walliams recalled when he and acting partner Matt Lucas had drinks with O'Toole in Los Angeles.
"He was hugely entertaining," he said.
"The greatest company. A legend on screen and off."
Related