China, the world's second-largest economy, is still receiving millions of pounds in aid from Britain - despite having its own space programme.
The Government has been criticised after figures seen by the Daily Mail show the UK distributed £27.4 million to the country last year.
China celebrated at the weekend when it successfully landed a space probe on the moon.
The Government said it no longer gives aid to China directly, but via non-governmental partners working to achieve UK objectives such as tackling climate change and building sustainable economies.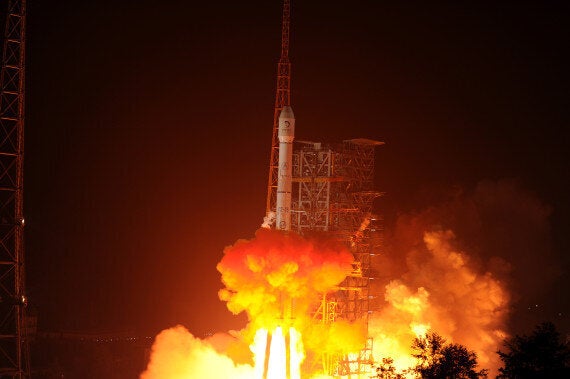 China's Chang'e-3 rocket blasts off
But Tory MP Peter Bone called on International Development Secretary Justine Greening to explain why UK money was still going to China.
"The public will be rightly horrified that we are still wasting money on aid to China,' he told the Daily Mail.
"It's extraordinary that we are doing this while they send a mission to the moon.
"If these aid programmes are still continuing then I think Justine Greening needs to come to Parliament and explain what the justification is, because I can't think of one."
China was among a list of 16 countries that the Government said would have its British aid funds cut off by 2016 following a review in 2011 by the then international development secretary Andrew Mitchell.
The Daily Mail said the official figures also revealed a further 14 countries from the list received cash last year, adding up to a total of £131.9 million.
Vietnam was given £51.5 million, Cambodia £14.5 million, Indonesia £11.3 million and Kosovo £10.2 million. Russia did not receive any aid.
Matthew Sinclair, chief executive of the TaxPayers' Alliance, told the newspaper: "Taxpayers expect UK aid to be helping people in the world's poorest nations."
A spokesman for the Foreign Office said: "Since 2011, we have stopped or are in the process of stopping bilateral aid to over a dozen countries that are becoming more prosperous like China and Russia.
"This has allowed us to concentrate our efforts where the need is greatest and where we can have most impact.
"It is right that where these programmes have closed that Her Majesty's Government continues to work with non-governmental partners on global issues like sustaining economic growth and climate change which affect us all."
Last year the Government announced it was to cut foreign aid to India by 2015 because of the country's growing economy, after repeatedly coming under fire for sending over an average of £280 million a year despite its multi-million space programme.
Related