A fire bomb is believed to have ignited at a Belfast shop in the latest attack on the city's commercial heart.
It was removed by a member of staff and left outside, police said.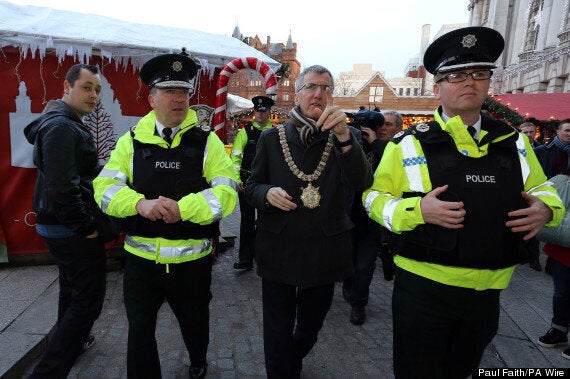 (from left) Chief Constable Matt Baggott, Belfast Lord Mayor Mairtin O Muilleoir and Assistant Chief Constable Will Kerr visit the Christmas market in Belfast after last week's attacks
A Police Service of Northern Ireland (PSNI) spokesman said: "Cornmarket in Belfast city centre has been closed by police following an incident at around 6.40pm this evening when a suspected incendiary device was left at a shop.
"The device is believed to have ignited but was removed from the premises by staff and left outside."
The area has been sealed off whilst Army experts examine the device.
The PSNI spokesman added: "Police are advising city centre businesses to check their premises for any suspicious objects."
Corn Market is a shopping focal point just a few hundred metres from the site of a blast on Friday night when Christmas party goers were forced to evacuate busy bars and restaurants. A sports bag with a small explosive inside ignited on the pavement in the city's Cathedral Quarter.
Police have stepped up their presence since masked men forced a terrified driver to bring a bomb into a Belfast city centre car park.
The escalation by extremists opposed to the peace process has also included posting letter bombs to senior police commanders and Northern Ireland Secretary Theresa Villiers.
Earlier this evening the army defused a pipe bomb found in the garden of a house in West Belfast.
Nationalist SDLP Stormont MLA Alban Maginness said: "It beggars belief that following the placing of a bomb in the Cathedral Quarter on Friday night that Belfast would be faced with yet another attempted act of wanton destruction.
"To place an incendiary device in a busy shopping area is both reckless and irresponsible and serves no rational purpose.
"Those behind this incendiary device are anti-Belfast and just want to threaten jobs, livelihoods and people's enjoyment of our city. They must not be permitted to prevail."
Northern Ireland Independent Retail Trade Association (NIIRTA) chief executive Glyn Roberts said the suspected fire bomb was believed to have been discovered at the Golf Centre shop.
"It is absolutely despicable that we have another bomb attack in the city centre but I know that there is still an absolute determination amongst traders and shoppers to continue on and not be dragged back by people behind these attacks," he added.