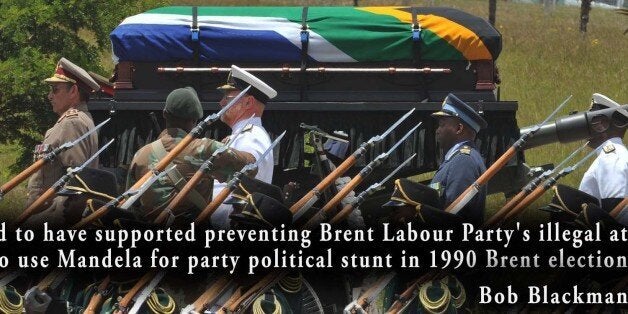 A Conservative MP has defended his High Court battle to block Brent Council from giving the freedom of the borough to Nelson Mandela.
Blackman, who was the leader of the Conservative group on the council from 1990 to 2010, this week defended his past action, saying the honour had been party political point-scoring.
Both Labour and Liberal Democrat councillors were in favour of the honour, but Tory councillors led by Blackman opposed it.
Labour councillors then attempted to use a simple majority to force through the honour, rather than the two-thirds majority needed. But Blackman obtained an injunction from the High Court, which PSBook said cost the borough's mayor Len Williams, and race relations advisor Dorman Long around £11,000.
Tony McNulty, the ex-Labour MP ousted by Blackman in the last General Election, told HuffPos UK: "Bob Blackman is nasty, out-of-touch and wrong. Just as many Tories are apologising for being on the wrong side of history on Nelson Mandela, this fool glories in it - in the week of Madiba's funeral.
"His last claim to fame was to ask for the restoration of Section 28 [that barred local authorities from "intentionally promoting homosexuality"].
"He is the personification of the Tories as the out-of-touch Nasty Party that everyone thought was history - he was wrong then, he is wrong now and hopefully has only 18 months left as an MP."
On Twitter, users rounded on Blackman:
The Huffington Post UK has asked Blackman's office for comment.
Popular in the Community