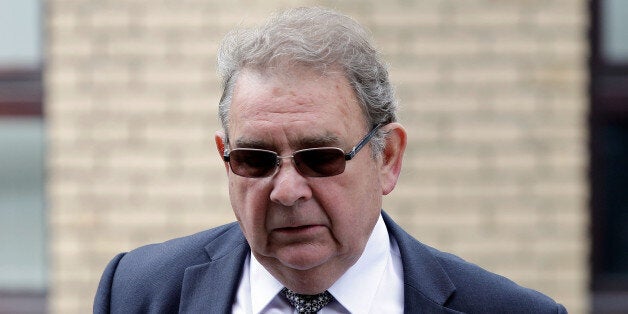 The five things you need to know on Tuesday 17 December 2013...
1) DO HALF OF ALL PEERS 'CLOCK IN' AND 'CLOCK OUT'?
"Picking up £300 a day for doing virtually nothing usually goes like clockwork for money-grabbing Tory baron Lord Hanningfield.
The paper says the peer is making "thousands of pounds by simply turning up and 'clocking in' to the Lords.
"He often spends barely half an hour there before turning on his heels and leaving again - racking up his daily attendance allowance without taking part in votes or debates.
"But last night he was facing a Parliamentary probe - after the Mirror exposed his shameless scam."
Hanningfield, as the paper reminds us, "has previous for milking the system. He was sentenced to nine months' jail for fiddling his accounts in the last Westminster expenses scandal".
When confronted by the Mirror about the claims, the peer said "at least half" the Lords check in to claim expenses.
"Being a lord is not just going in the House of Lords," he said. "Lots of peers go in and check in for their expenses, but they are using their expenses for a lot of things - entertaining, meeting people, employing people."
There is no suggestion that Hanningfield broke any rules or laws.
2) LEANING TOWARDS HEATHROW?
"New runways at Heathrow and Gatwick are among the options that have been short-listed by the Airports Commission.
The three short-listed options include adding a third runway at Heathrow, lengthening an existing runway at Heathrow, and a new runway at Gatwick.
"The commission, led by businessman Sir Howard Davies, has also not ruled out a new airport in the Thames Estuary."
The BBC reminds us that "the Mayor of London, Boris Johnson, has said that putting a new runway at Heathrow would be a 'catastrophe'."
Don't forget also that the Tories pledged in their 2015 manifesto that they wouldn't build a new runway at Heathrow - if they violate this pledge, Conservative backbencher Zac Goldsmith has pledged to force a by-election in his own not-so-safe Richmond seat.
If you were born in the 1960s or 1970s, you might want to avoid the front pages of the Mail, the Guardian and the Telegraph.
"Children of the 1960s and 1970s will be worse off than their parents when they retire, economists warn today.
"The post-war trend for each generation to be richer than the last may be coming to a halt, they said.
"Workers aged from 34 to 53 are being punished by inadequate pay rises, dire pensions and crippling housing costs. With meagre savings, their only hope of a comfortable retirement is a large inheritance.
"'The economic fate of the 1960s and 1970s cohorts may be relatively dependent on the fortunes of their parents,' says a report published today by the Institute for Fiscal Studies."
Well, we're all in this together, right?
BECAUSE YOU'VE READ THIS FAR...
Watch this video of Friends star Matthew Perry (aka Chandler Bing) take on Mail on Sunday columnist Peter Hitchens on last night's Newsnight, on the issue of drug addiction. Perry can't believe what he's hearing come out from Hitchens' mouth...
4) 'INHUMANE AND MECHANISTIC'
"A government welfare adviser has suggested thousands of ill and disabled people were subjected to 'inhumane and mechanistic' fit-for-work tests after ministers ignored his advice not to push ahead immediately with plans to reassess 1.5 million claimants on incapacity benefit.
"Professor Malcolm Harrington told the Guardian he believed the work capability assessment (WCA) was 'not working very well' when the coalition took power in 2010, and he told ministers a big expansion of the scheme should be delayed for a year to enable the tests to be improved."
They didn't listen. In fact, the then work and pensions minister Chris Grayling suggested in the Commons that the coalition had Harrington's blessing for its 'reforms' to long-term incapacity benefit (IB).
5) 'MISSION ACCOMPLISHED'? YOU'RE KIDDING, RIGHT?
Yesterday, our PM did his best impression of George W. Bush circa May 2003 - from the Huffington Post UK:
"David Cameron has claimed British troops have achieved their mission in Afghanistan, more than 10 years after they were first deployed.
"The prime minister made the statement during a surprise Christmas visit to the military's Camp Bastion base. Cameron said there would no UK combat troops left in the country by the end of next year.
"Asked by reporters if the troops come home with 'mission accomplished', Cameron said: 'Yes, I think they do. I think they can come home with their heads held high.'"
Really? So forget all the military casualties, civilian casualties, the increase in heroin supply, the resurgence of the Taliban and the way in which the conflict has acted as a recruiting sergeant for Al Qaeda, eh?
Conservative MP John Baron, a member of the Commons foreign affairs committee, told my colleague Ned Simons that said it was perhaps "premature" for the prime minister to have declared mission accomplished in Afghanistan. He said: "Is that success? If you're handing large chunks [of Afghanistan] back to the Taliban and you're second mission was to defeat the Taliban in order to create a nation state in your own image, in many respects, I don't call that success."
From today's Sun/YouGov poll:
That would give Labour a majority of 18.
@ZacGoldsmith BAA's Colin Matthews tells R4- Heathrow can't be expanded without broad political consensus. There will never be consensus on the 3rd Runway
@jreedmp Ah, Paul Burstow. Yes. That one. Doesn't he campaign against policies he introduced when he was a minister?
@flashboy Useful reminder that if Peter Hitchens is the only person you can get to take one side in a debate, it probably isn't a debate.
Rachel Sylvester, writing in the Times, says: "Power is seeping from the party leaders."
Aditya Chakrabortty, writing in the Guardian, says: "For a real-life Hunger Games, look no further than your local bank."
Steve Richards, writing in the Independent, says: "It's taken politicians long enough to realise the scale of the housing problem. Now, we must act quickly."
Got something you want to share? Please send any stories/tips/quotes/pix/plugs/gossip to Mehdi Hasan (mehdi.hasan@huffingtonpost.com) or Ned Simons (ned.simons@huffingtonpost.com). You can also follow us on Twitter: @mehdirhasan, @nedsimons and @huffpostukpol