"It's a tender word for a woman, with disturbance on the streets.... soft but rigid."
Thus, in a few short words, do a group of young women explain their ideology. And they're not lying. For this deceptively feminine-sounding protest by a feminist punk protest group has caused headlines around the world, after embarking on a shambolic gig in a Moscow church, theatrics that were perceived as a national outrage, saw three of them tried and sentenced to two years' imprisonment in a penal colony.
'Pussy Versus Putin' has just won the NTR IDFA Award for Best Mid-Length Documentary. It is produced by the anonymous Russian Collective Gogol's Wives Productions. At only 60 minutes long and filmed on the move, presents the insider's view of their political discussions, planning meetings, expeditions onto buses, Moscow Metro scaffolding, the infamous church altar, and finally from inside their waiting cell in court, from where they stood, eyeball to eyeball, with government officials and the world's press.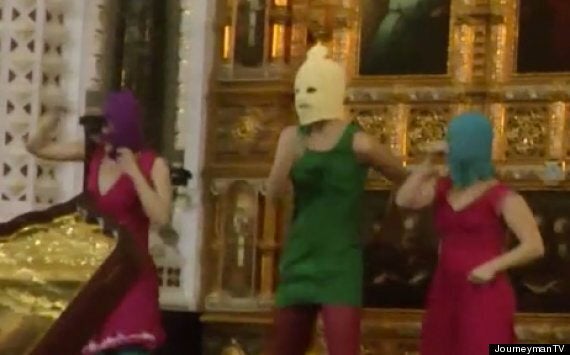 For a broader account, see Mike Lerner's film 'Pussy Riot', which puts the group's protest into measured context, incorporating the views of clergy, observers and the girls' families.
'Pussy Versus Putin' is the more dynamic younger sibling of a film, hand-held camera, often a phone, sometimes with a hand placed over it, all protests and scuffles, that successfully captures the energy behind the group's expeditions, as well as the humour. When Nadezhda Tolokonnikova is carted off by a police officer from the Underground, she is too busy putting his hat on her head to show fear. No wonder the Kremlin is so infuriated by these young women.
There are currently rumblings that the pair still in jail - Yekaterina Samutsevich was freed earlier in the year, after successfully winning the argument that she didn't get as far as playing her guitar on the church altar before she was bundled off - will be freed under a new Kremlin amnesty.
Hopefully when, not if, this does happen, these women will be able to say to their future generations that, in a time of upheaval, they did not stand still or silent. 'Pussy Versus Putin' is their proof.
You can watch it here on the Journeyman documentary channel. Watch the trailer here...
Popular in the Community