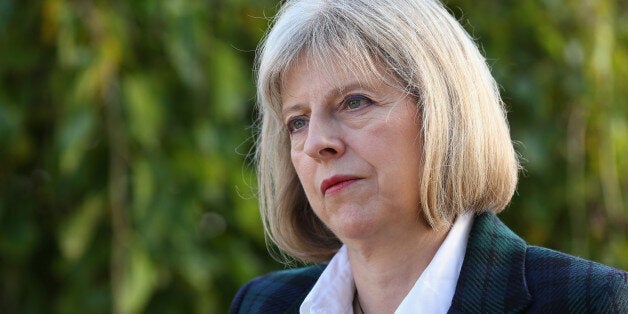 Reform of the right to free movement should form part of any negotiations on new arrangements for the UK's membership of the European Union, Home Secretary Theresa May has said.
Mrs May said she has already raised the issue with counterparts in other EU states who are also concerned about issues such as "benefit tourism" and movements of workers between countries with wide disparities in incomes.
Reports of a leaked Home Office paper suggest that Mrs May wants to introduce a cap on migration from the EU, possibly at 75,000 a year - around 30,000 lower than the current level.
The changes would mean that professionals and highly-skilled migrants from wealthy countries such as Germany, Austria or the Netherlands could move to the UK only if they had a job offer and lower-skilled workers would be allowed to settle only if they were employed in posts where there was an identified shortage.
Speaking to BBC Radio 4's Today programme, Mrs May declined to comment on the leaked report.
But she said: "This is something I've been talking about with my opposite numbers - interior ministers in other countries within the European Union - for some time now.
"There is a growing concern not just here in the UK, but elsewhere too, about the abuse of free movement, about the way in which people can move freely across Europe, sometimes for access to benefits."
The UK is already tightening up rules on migrants' access to benefits, as Romanian and Bulgarian nationals gain new rights to live and work in Britain from next month.
But Mrs May made clear that she and Prime Minister David Cameron want further reforms to control the access of nationals of any future EU entrants.
"What the Prime Minister has said and what I have said is that in looking at reform of the EU we need to look at this whole question of the arrangements for new countries that come in - the so-called accession countries," she said.
"At the moment, you can restrict free movement rights for seven years. What both the PM and I have said is we need to look at this and think about whether that should be longer, whether it should be more flexible, whether we should look at restricting free movement rights until a country's national income, GDP, is at a certain level, so we are not looking at the great disparities we sometimes see across the EU.
"What I'm saying is that as we look ahead to the whole issue of reform of the European Union, I think we do need to look at this question of free movement.
"This isn't something that is just being raised in the UK. There are a number of countries who are concerned at various levels about this issue of free movement, particularly obviously about abuse of free movement.
"The whole issue of free movement has changed over the years. At the original start of the EU, it was about free movement of workers. It's now been expanded by treaties and by the courts in terms of their interpretation of it.
"So I think it is right that we look at the question of abuse and we look at the accession of new countries and say what makes sense for member countries within the EU in terms of the future and in terms of what this free movement right is."
Related