Millions of festive travellers could face major disruption to their Christmas travel plans tomorrow as the UK prepares for severe gales and heavy rainfall capable of bringing the transport network to its knees.
The Met Office has issued a severe weather warning from dawn on December 23, with the threat of gusts of up to 80mph and localised flooding in pockets of the UK, just in time for the big getaway.
Motorists have been braced to prepare for delays, particularly those heading to the south-west of England and parts of Scotland, while those looking to make an early getaway across the seas have already faced some disruption to services as a result of the adverse weather.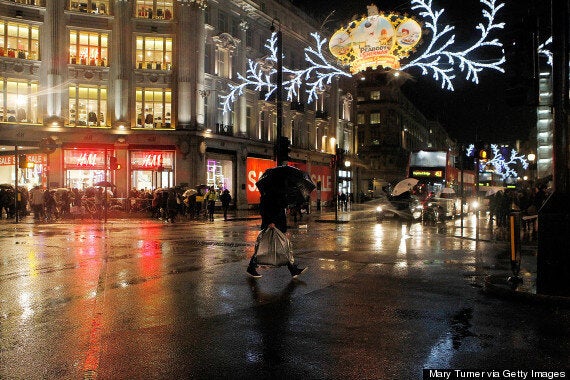 Christmas Shoppers brave rain and thunder storms to hunt for gifts at Oxford Circus
Calum MacColl, forecaster with the Met Office, said those looking to travel home for Christmas ought to prepare for problems on the roads and rails.
He said: "There is scope for very heavy rain, potentially some localised flooding, and strong winds in some areas so there is a risk of travel disruption.
"We have got a depression in the Atlantic pushing towards us from tomorrow morning itself.
"The day will start quite nicely in some places, but there will soon be heavy outbreaks of rain in the south-west of England and south Wales.
"That will quickly move into the North East, and it will bring gales with it."
MacColl said winds of 50-60mph were likely as a weather system sweeps across the country, with isolated gusts of up to 80mph in some places.
He said: "Once the weather sets in, it will be staying all day.
"The worst areas will likely be the south-west of England, particularly on higher ground.
"There will certainly be a legacy of rainfall from previous days, so there will be scope for localised flooding.
"Forecasts are painting a very wet and windy picture."
The worst of the weather is expected to clear by the end of Christmas Eve.
Police in Cumbria have urged people to be prepared over the next few days, with continued road disruptions and localised flooding.
A spokeswoman said: "Yesterday, the county's roads were affected by standing water which resulted in some roads being heavily affected or closed as well as some areas being flooded.
"The Met Office has advised that more heavy rain is due to hit Cumbria again on Monday and high winds on Tuesday, therefore police want to take this opportunity advise people to take care and be prepared."
The Cumbria Coast railway line, which runs between Carlisle and Barrow, is closed at Harrington, Workington, due to a landslide. The line is expected to remain closed today while repair work is carried out.