A man and a woman have died in river incidents and thousands of people face travel chaos trying to make it home for Christmas as strong gales and torrential rain batter the UK. The Environment Agency has issued a severe flood warning in the South West due to "extremely dangerous" conditions - the highest level of alert which warns there is "danger to life" - but the fatalities were in Cumbria and North Wales.
A man's body was pulled from the River Rothay in Ambleside, Cumbria. Inspector Chris Wright, of Cumbria Police, said: "It would be fair to say that the river in its current state did not assist the rescue operation. It was fast flowing, and a lot more water than normal, so yes, it's fair to say that the weather contributed to the problem." North Wales Police said they were alerted to reports of a woman in a river at Nant Ffrancon, Bethesda, Gwynedd, at 3.57pm today. Police officers, North Wales Fire and Rescue Service and a Mountain Rescue Team attended. "Unfortunately the woman was pronounced dead at the scene," a spokesman said.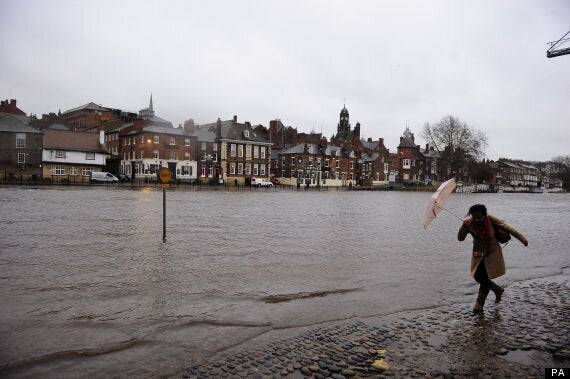 Rising water levels from the River Ouse bring floodwater into riverside roads in York
An investigation is under way but no more information was available yet. The severe flood warning is at the Sea Life Centre and the Preston Beach Road area of Lodmoor, Weymouth. The Environment Agency said: "Flooding may already be affecting low-lying areas and roads. We anticipate that the Preston Road will be closed for a period around high water between Overcombe and the Sea Life Centre. There may be significant spray and shingle overtopping affecting the Preston Road. The public are also advised to avoid the Preston Beach area on foot as conditions are extremely dangerous and will remain so overnight."
There are 38 flood warnings and 184 flood alerts in place across England and Wales. People travelling before Christmas face "quite severe" disruption - with one transport boss saying "it won't be an easy task". The Department for Transport said the unsettled weather will continue for the rest of the week. Emma Compton, a forecaster at the Met Office, said: "The disruption to transport could be quite severe."
Robin Gisby, managing director of operational services for Network Rail, said the next couple of days will be a challenge. "Our fundamental concern over the next 48 hours is to get everyone where they want to be for Christmas. It won't be an easy task given the forecast conditions and disruption is likely - but I want to be very clear that our priority is running as many trains as we can safely, rather than worrying about hitting the timetable bang on," he said, adding that hundreds of engineers and other staff will be across the network over the next two days, ready to react quickly to any problems, removing debris and fixing equipment where necessary.
Airports are advising passengers to check with their airlines before travelling and to leave additional time for their journey to the airport. The bad weather has resulted in thousands of homes being left without power in Cornwall. A spokeswoman for Western Power Distribution said high winds brought down overhead power lines. She said the number of homes and businesses without power in Cornwall stood at 3,000, with a further 2,000 across the South West. UK Power Networks said it is monitoring the weather closely, and has "robust emergency plans in place to cope with severe weather", adding that it has brought in additional staff covering engineering, technical and call centre roles.
The Tamar Bridge in Plymouth, between Devon and Cornwall, was closed to high-sided vehicles, motorbikes and caravans due to "high gusting winds". The QEII Bridge at Dartford was closed at lunchtime as winds were expected to exceed 60mph, the Highways Agency said. The closure is expected to remain in place until approximately 4am tomorrow when it is predicted that the high winds will ease.
The Sheppey Crossing in Kent was also closed due to high winds, a spokeswoman for the Highways Agency said. It will remain in place until the high winds subside, which is expected to be early tomorrow morning. A Met Office spokesman said a new wind speed high had been recorded at Capel Curig in Conwy, North Wales, with gusts blowing at 87mph. Not far behind was Berry Head in Torbay, Devon, with gusts of 76mph.
The Met Office spokesman said: "The strongest winds will move across the country." Ms Compton warned that south west-facing places will see the worst of the rain, adding that it is "already falling on quite saturated ground", with the risk of flooding. "There will be snow for a short time in Scotland but it will turn back to rain," she said. Ms Compton said 0.8in (20mm) to 1.2in (30mm) of rain is expected in some places, but southern-facing slopes could get more. Places like Dartmoor in Devon could see 60mm (2.4in)."
In terms of wind, the worst place will be the south coast and any higher ground, which could see "severe gales" at 70mph-80mph, Ms Compton warned. "But more places inland could see wind speeds up to 60mph, so that's going to be strong throughout the course of the day and ease this evening." Compton warned that the wind will pick up again during the night and Kent faces particularly strong gales. Michael Roberts, director general of the Rail Delivery Group which speaks on behalf of the rail industry, apologised to passengers whose journeys are affected by the weather.
He said rail staff are "doing everything they can", adding: "Where services are affected, operators are advising passengers to consider changing their travel plans and have already lifted ticket restrictions to help them do so. Passengers have been advised to travel earlier to take advantage of the greater flexibility being offered by some operators and anyone still looking to travel should check the National Rail Enquiries website for the latest information."
The AA's specialist severe weather team has been deployed across southern counties. Darron Burness, head of the AA's flood rescue team, said: "We are working with the Environment Agency and the emergency services to provide support in the South West and elsewhere in southern counties. However, the situation is fast developing and we will change our plans to ensure we offer support where it is most needed. We expect the worst of the winds tomorrow to be in Northern Ireland, south and central Scotland and northern England."
The Environment Agency has warned communities across the South East to be vigilant and prepare for possible flooding. It is asking people to take steps to protect their homes from flooding and not to drive through dangerous flood water. Simon Beavan, regional flood and coastal risk manager, said: "With more unsettled weather forecast for the South East, following recent heavy rainfall, there could be a lot of water in low-lying lands and on roads. Those who live in an area vulnerable to flooding should think about the precautions they can take to limit the damage a flood can cause to themselves and their property. Be prepared: check the Environment Agency website for the latest situation and advice."
Train operators have been warning of widespread delays, disruptions and cancellations, and have made contingency plans with bus firms. Network Rail said speed restrictions are likely on some routes and many train companies are advising passengers with tickets for today to travel earlier than their booked time, or to wait until Tuesday.
The Environment Agency urged people to check its flood forecasts and warned people to keep away from coastal promenades because of wet and windy conditions. The worst of the weather is expected to be clear by the end of Christmas Eve, the Met Office said. Andy Page, Met Office chief forecaster, said: "A rapidly deepening area of low pressure is developing to the west of Ireland and is forecast to pass just to the north-west of the UK overnight and on Tuesday. This will bring stormy conditions to the UK with the strongest winds likely along coastlines exposed to the south on Monday night and for Northern Ireland, the north and north-west of Scotland on Tuesday.
"This brings the potential for possible disruption to transport because of the strong winds and also localised flooding in some areas. The public are advised to stay up to date with the latest Met Office forecasts and National Severe Weather Warnings and find out what to do in severe weather so they can plan ahead and be prepared for the weather in store and make the most of the festive season."

The giant "snow globe" erected around a sculpture in Piccadilly Circus has deflated
In London, Royal Parks closed Hyde Park, Kensington Gardens, Richmond Park, Bushy Park, St James's Park and Green Park early due to "the current severe weather conditions". As high winds are expected this evening and overnight Royal Parks might need to keep some parks closed tomorrow morning subject to an onsite assessment.
The Port of Dover is advising its customers to contact their ferry operator and check the port's website (www.doverport.co.uk) or twitter account (@Port_of_Dover) for the latest information on Channel crossings.
Ferry services are currently subject to delays although the port remains open and operational. As weather conditions are likely to deteriorate later tonight this could lead to a potential closure of the Port of Dover as the worst of the storm passes through.
The giant "snow globe" erected around a sculpture in Piccadilly Circus has deflated as high winds and heavy rain continues to batter the capital. The Christmas decoration, built around the statue of Eros, the Greek god of love, had large fans that blew imitation snowflakes around the globe. An onlooker explained that winds blew the 30m globe onto Eros' bow, tearing a hole in the structure and showering the central London square in fake snow.
Jac Timms, 33, said: "There was quite a storm blowing when we arrived at Piccadilly Circus and took a few snaps of the statue. We were in a restaurant at the bottom of Shaftesbury Avenue when I saw out of the corner of my eye that it started to flap around a bit, where before it had been rigid. It flapped around more and more - moving from side to side - until it got caught on Eros' bow and tore a big hole in it. The snow blew out of the globe all over Piccadilly Circus, people were covered.
The area was later cordoned off by police, but there were concerns that the 130-year-old statue was damaged by the incident. Mr Timms added: "The top of the plastic dome was caught over Eros and it was acting as a sail. It was starting to pull the statue from side to side, and it has quite a thin base so it looked like it could have been pulled down."
Wightlink Ferries are still taking passengers to and from the Isle of Wight during one of the worst storms to hit the south coast of England this year, the company said. Three car ferries are operating between Portsmouth and Fishbourne - the fourth, the St Clare, has been moored nearby in the Portsmouth International Ferry Port.
The other ferries - the St Faith, St Cecilia and St Helen - are continuing to sail between Portsmouth Gunwharf and Fishbourne on a shuttle service. A spokesman said: "Priority is being given to booked customers. Passengers who want to change their booking to tomorrow (Christmas Eve) can do so free of charge."
Sean Millward, head of port operations, said: "We know many customers want to travel to and from the Isle of Wight for Christmas and we will do our best to take them there. However, as safety is always our first priority, we will not sail if it is not safe to do so. Customers should check our website for the latest news on services during the storm."
Ogwen Valley Mountain Rescue team spokesman Paul Smith told BBC Wales about the incident in Bethesda: "It seems the woman had gone out to check the water supply to her house. "A little while later her partner noticed she had gone and raised the alarm. The place she was found is just 50 metres from her house. It's a small stream that runs off the mountain - about half a metre wide and three quarters of a metre deep - but it was in full flow."
The number of flood warnings across the UK has risen sharply as rivers continue to swell amid sustained heavy rainfall. The Environment Agency has revised up the number of flood warnings, which suggest "immediate action" by those affected from 38 to 57.
The number of flood alerts, which warn residents to "be prepared" has also jumped to 218 from 184. There is still only one severe flood warning - for incidents that could pose a danger to life - in Preston, Weymouth.
Areas in the South East and South West continue to be the worst affected, with these areas accounting for 55% of flood warnings (151 of a total 276). A spokeswoman for the Environment Agency said flood warnings would continue to rise as rainfall flows into rivers, swelling them to near bursting point.
She added that people are being urged to regularly check the Agency's website for updates on their area.