Residents faced Christmas in flooded homes and without power after storms caused havoc across much of Britain. The death toll from the violent weather rose to five and people heading home for the holiday had to battle with difficult conditions on roads and railways.
Some of the worst chaos was at Gatwick airport in West Sussex where a power outage at North Terminal led to cancellations and delays. Although Christmas Day is expected to see calmer weather, more storms are expected on Friday. Tens of thousands of households were without power after Monday's downpours and strong winds.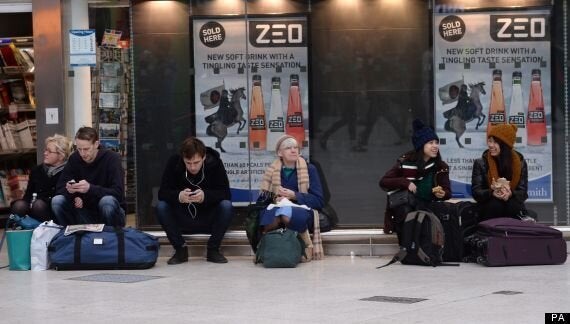 Passengers wait at Waterloo Station, London, following a night of widespread storms
Southern Electric restored power to 40,000 homes, but 70,000 remained without. Spokeswoman Morven Smith said it had been a "very difficult" Christmas Eve, telling BBC Radio 4's World at One: "We have a significant amount of damage in the West Sussex, south Hampshire and Dorset areas, so we are focusing our attention in those areas to get as many properties and customers back with their power today.
"Realistically, it may be that we do have some customers without power on Christmas Day and for that we apologise. For all customers who've been without power at any time of year, it's not great, but at this particular time of year it's not what people want."
A man whose body was pulled from the fast-flowing River Rothesay in Ambleside, Cumbria yesterday was named as Simon Martindale, 48, of Hest Bank, Lancaster. Shortly before, he was seen walking his dog nearby. A woman died in a river in Gwynedd, North Wales, yesterday, another was killed in a car accident in Shrewsbury, Shropshire, last night and a man died in a crash near Bodmin, Cornwall on Sunday night.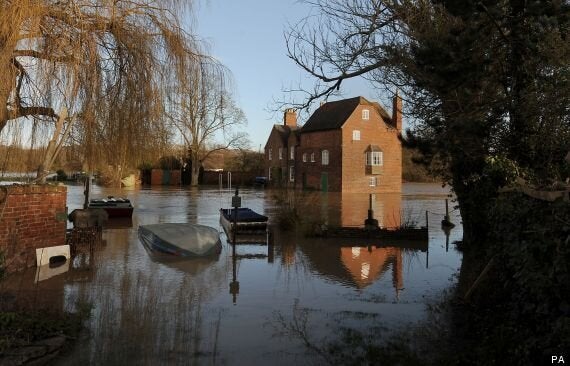 Cropthorne Mill is surrounded by floodwater from the River Avon in Fladbury, Worcestershire
A man died after being taken to hospital with serious injuries after he jumped into a fast-flowing river to rescue his dog. Witnesses saw the 46-year-old being swept away after he leapt into the River Lemon in Newton Abbot, Devon, at 11.15am today. The dog managed to escape from the water unharmed.
A number of train companies were unable to run early-morning services and when they did start they were subject to delays and cancellations. Network Rail said more than 200 trees had come down on lines in the last 24 hours. Gatwick said for the rest of the day all flights would be leaving from South Terminal. Passengers complained of a lack of information and spoke of four-hour delays.
Graziella Vella, from Kilburn, north-west London, was due to fly to Malta to spend Christmas with her family. The 37-year-old said: "I am fuming and absolutely desperate - there has been no information at all and we can't make alternative plans." An airport spokesman said the cause of the outages was flooding from the River Mole into airfield substations and North Terminal and efforts were being made to fix the problem as quickly as possible.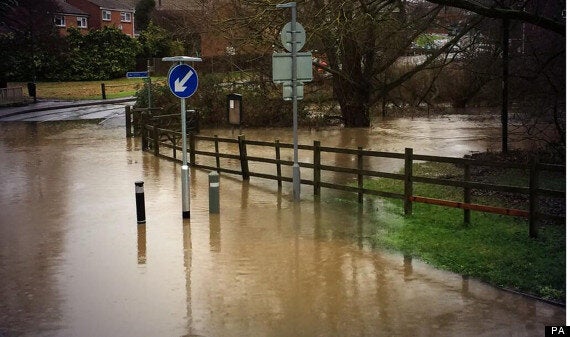 Flooding in Mallards Way, Maidstone, Kent
Travellers on First Great Western's service from London Paddington to Devon and Cornwall last night were left stranded at Taunton in Somerset shortly before 1am because of flooding and signal problems. Steven Rowe, travelling from London to Plymouth, said he was left at Taunton from 12.50am until 7.30am when he was put on a coach to Exeter.
First Great Western spokesman Dan Payne told World at One: "The significant problem was flooding outside Taunton station last night and into the early hours of this morning. That meant there was no viable path through for our trains at that time. We were able to move some of our customers on by road to their destinations but because of the poor weather and the state of the roads in Devon and Cornwall at that time there weren't any of the normal operators that we would use to bus or coach or taxi people down into Devon and Cornwall."
On the roads, many major routes were flooded or blocked, with Kent, Hampshire, Surrey, Sussex and Cornwall among affected counties. In Dorset fire crews had to rescue 25 people trapped in their cars by flood water. More than 300 flood alerts and warnings remained in place. The number of warnings - the category the Environment Agency uses to alert residents that "immediate action is required" - has jumped to 125 across the UK.
There are also 243 flood alerts, which indicate "flooding is possible, be prepared". The most severely affected areas remain the south west and south east, where there is one "severe flood warning". This is for the River Mole at Leatherhead and Fetcham, Surrey, where flooding at around midnight tonight could pose a threat to life.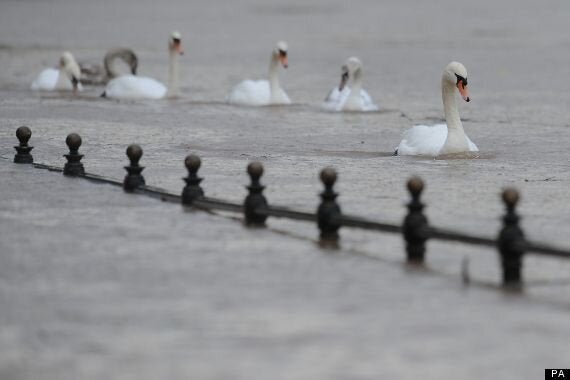 Swans swim through floodwater around the River Severn in Worcester
Meanwhile, the A303 in Somerset is closed in both directions near Yeovil between the A37/A372 at Podimore and the A3088 at Tintinhull due to flooding. The Highways Agency, Avon and Somerset Police and Somerset County Council are working to re-open the route as soon as it is safe to do so.
"Traffic travelling from Devon and Cornwall towards London is advised to use the M5 northbound and M4 eastbound," a Highways Agency spokesman said. "Road users travelling from London and the South East are advised to use the M4 westbound and M5 southbound."
Network Rail said this evening that most passengers had completed their journeys. Robin Gisby, managing director of network operations, said: "Our stations are quieter now with most passengers safely on their way home. "We thank people for their patience as our engineers have battled extreme conditions over the past 24 hours clearing scores of line blockages and over 200 trees to restore services and get people on the move again and home for Christmas. We will continue to repair the damage caused by the storm, damage that has been even more extensive than that suffered during the St Jude's storm."
He warned that planned improvement work may also be delayed. More time may be needed to complete the programme and we will release more details once we have looked more closely at the schedule."
A spokesman for the Rail Delivery Group, which speaks on behalf of rail operators, said: "We apologise to passengers whose journeys to join family and friends over the festive period have been affected by the bad weather yesterday and today." Fire crews have rescued one adult and three children from a car stuck in floodwater in Podimore, Yeovil in Somerset. Two fire appliances and the rescue tender as well as the specialist rescue team from Bridgwater attended Church Street at 5.31pm.
A spokesman for Devon and Somerset Fire and Rescue Service said: "Fire crews rescued one adult and three children by leading them to safety using inflatable powered boat and dry suits. Fire crews left the incident in the hands of Police."
Popular in the Community