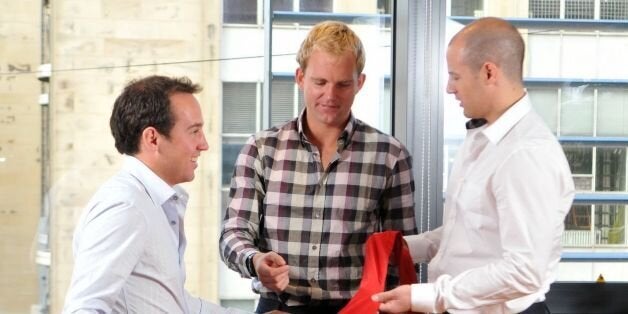 Entrepreneurs always try to take on tradition, and now the three Edinburgh entrepreneurs behind the spandex bodysuit brand Morphsuits have set the Christmas jumper in their sights.
They have launched a new line of "animated" high-tech Christmas sweaters that "come to life" with wearable technology, as you can plonk your smartphone into a velcro pocket inside the jumper that using a special app can leave you with a sweater showing a shaken snowglobe, a carol-singing cat or a crackling fireplace.
In order to be thorough, HuffPostUK tested out one of Morphsuits' new Christmas jumpers and the caroling cat can be seen below in full festive flow.
Despite the animated Christmas jumpers' gaudiness, Morphsuits has grown over the years since its founding in 2009 by brothers Fraser and Ali Smeaton and their flatmate Gregor Lawson off the back of its growing spandex bodysuit range (now boasting around 200 styles).
HuffPostUK caught up with Morphsuits' Gregor Lawson to find out how the trio grew the business to now take on Christmas jumpers.
So how did you get the idea for Morphsuits?
We went to a colour fancy dress party where you had to come dressed head to toe in one colour. One guy wore a blue spandex costume that covered him from head to do that he picked up second-hand. He couldn't see that well out of it and it was a bit baggy but he was like a superhero celebrity, he was the king of the party.
How did you get the company off the ground?
We went to Alibaba.com where we found a manufacturer who could make Morphsuits. We worked with them for 3 months to get the quality just right, so that the stitching was right, you could see through it but no one could see in. We invested £3k each. The majority of this spend went on stock. We made a website for $400 and launched via Facebook.
It was very hard for the first year. We were still working in our normal jobs at Procter & Gamble, Barclays and British Telecom so there were a lot of 2am finishes. We used to get up at 5am every morning to take all the orders to the post office.
Do you have many rivals in the market? How have you aimed to be different?
Yes, the barriers to entry are low but whilst the knock-offs continue to focus on what we're doing, we focus on the end user and making the most impactful costumes in the world. Moreover we own the Morphsuits trademark, it's the name of the category which gives us protection vs the competition.
How big is Christmas business for you?
When we were only selling Morphsuits it was far smaller than Halloween as December can be a little chilly for spandex which is one of the reasons we joined up with Digital Dudz owner Mark Rober and launched Christmas Jumpers this year. Mark has the patent for incorporating mobile devices into clothing which has allowed us to take Christmas jumpers into a whole new level of impact.
Would your take on 'ugly Christmas jumpers' only work in Britain?
It's massive in the UK and the US. I think it will continue to grow in continental European countries too, to take Germany for example, we sell 1000s of Morphsuits during Carnival, if they get Morphsuits, I see no reason why they shouldn't get ugly Christmas jumpers too.
What's the big ambition now for Morphsuits?
We want to build our distribution around the world, get our hands on the biggest licenses that our fans keep asking for and continue to revolutionise the costume industry. If we do those 3 things there is a good chance we'll get to £100m turnover.
Related