Residents have told how they were rescued from their homes early on Christmas morning.
Pat Tapply, 79, a retired civil servant, left her home in Iford Bridge Home Park near Bournemouth in Dorset - including presents by her fireplace - at 3.30am.
"I looked out at 3am and it hadn't come over the back so I went back to sleep but at 3.30am wardens came and told me to get out," Mrs Tapply said.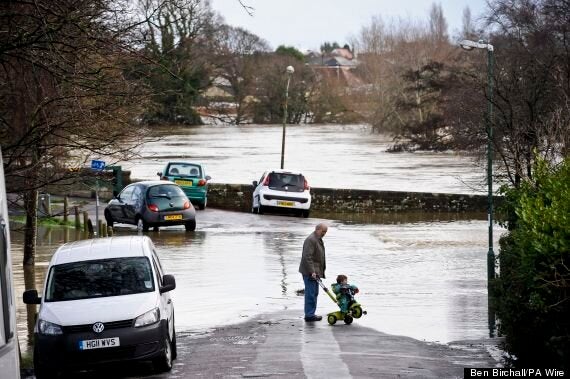 A man and child beside the overflowing River Stour at Ilford, near Bournemouth
"I have nothing apart from what I am standing in. I don't know if my home is flooded, I've just spent £2,500 on new carpets.
"A few of us got as far as the Baptist church, which is on higher ground, and then they came with a boat to get us out.
"They had to bring a boat to the steps on the church."
Mrs Tapply, who was in the church with around 10 of her neighbours from the holiday park, was then taken to Boscombe Resource Centre.
"They provided us with a Christmas lunch, they were brilliant," she said. "We couldn't have had better service.
"Tonight I'm staying in a local hotel, luckily the shops are open tomorrow so I can buy some clothes, make up and shoes.
"I would just like to know how bad it is. All the presents are by my fireplace, I don't know what they are but I hope they are still there when I can come back."
Liz Gaere, 48, a development worker, and husband Korby Gaere, also 48, a musician and peace activist were rescued from their property this morning.
"A neighbour phoned at 7am and said 'are you ok'," Mrs Gaere said. "I said 'yeah, we're fine, what's happening' and she said 'have you looked out the window?'.
"We went out on our balcony and saw the flooding and saw the boats coming in. They said to us 'do you want to come out, you've got five minutes'.
"Five minutes later we had to go out of our side gate so we could get to the boat easily. We were then taken to the local pub, where we were given a cup of tea and a Mars bar.
"We are very lucky we got out ok, we're not sure if the house is flooded or not. The most important thing is that we're out."
Mr and Mrs Gaere said they have no idea when they will be allowed back into the property. They will enjoy Christmas lunch at her parents' house nearby later.
Tim Field of the Energy Networks Association said the number of houses without power is now just under 50,000, adding: "It's likely that some people will still be off on Boxing Day. We don't have exact numbers."
UK Power Networks, which delivers power to about eight million customers in the South East, the East of England and London, said the storm led to about 300,000 properties being left without power although for most it was restored by engineers within minutes.
It said its engineers were working to reconnect everyone else, with supplies restored to the vast majority by last night and repair work continuing throughout Christmas Day and Boxing Day.
The company said: "UK Power Networks is trying to bring extra help to customers, wherever possible, while it works to restore power supplies.
"We made arrangements for hundreds of residents without power following the severe storm to receive Christmas dinners in the South East via a mobile catering facility, pubs, restaurants and hotels."