A feast of fruity flavours including peach snow, edible banana confetti and orange-scented bubbles are set to descend on revellers at London's New Year's Eve celebrations.
The aim is for an estimated 50,000 revellers, in an area around the size of three football pitches, to be able to taste and smell the party atmosphere when they flock to the banks of the River Thames for the annual fireworks display.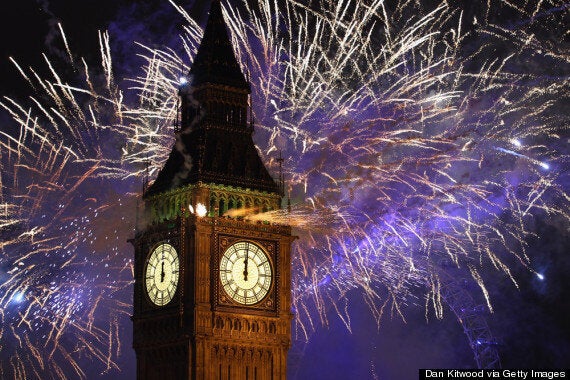 London's celebrations are sure to get off with a bang
In what is being billed as the "world's first multi-sensory fireworks display", there are to be clouds of apple, cherry and strawberry mist, peach snow, plus thousands of big bubbles filled with Seville orange-flavoured smoke and 40,000 grams of edible banana confetti in the tie-up between the London mayor's office and Vodafone.
London Mayor Boris Johnson promised it will be "one of the world's most dazzling firework displays."
"It highlights our capital's fantastic community spirit and its premier position on the global stage," he added.
Up to 100,000 people in key viewing areas by the Thames will also get packs featuring scratch 'n' sniff programmes, LED wristbands and seven kinds of fruit-flavoured sweets that link to the tastes and smells of the multi-sensory display.
They will have to wrap up warm as against the winter chill. It will be a mixture of cold spells and showers, according to Helen Chivers, of the Met Office.
She said: "Quite a lot of people will welcome in the new year with weather that is dry but chilly. It will feel cold because there will be a bit of a breeze even though the temperatures are not going to be near freezing."
Revellers across Scotland and Northern Ireland will celebrate the new year with temperatures of between 3C (37.4F) and 5C (41F), while those in northern England will face temperatures of about 6C (42.8F) and those in the South will have to wrap up against breezy temperatures of between 7C (44.6F) and 9C (48.2F).
The Environment Agency said it expected the eight flood warnings and 119 flood alerts in place over England and Wales to increase by New Year's Eve and in to 2014, which will particularly hit people in the south of England and Wales.
A spokeswoman said: "For New Year's Day, there is forecast heavy rain which will affect the south-east of England. It could be disruptive to travel and potentially impact on properties.
"Rainfall is also forecast for the south of Wales and England which could lead to some flooding in low-lying areas."