Millions of people have again resisted home comforts in favour of pounding wind and rain-battered streets, as revellers across the world celebrated the start of 2014. The annual crackles of fireworks and chimes of Big Ben rang in the new year in London, where people queued for hours to get a prime spot on the Southbank, while street parties and shindigs throughout the UK coaxed others from their homes.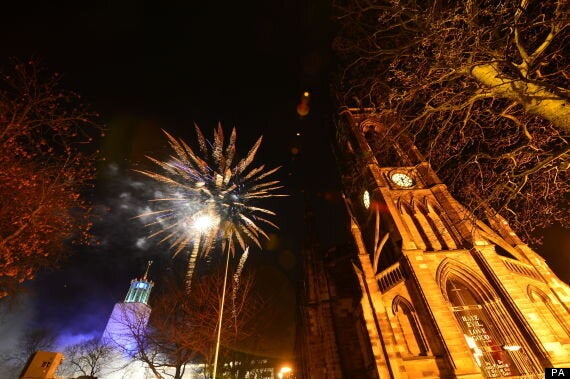 Fireworks over the church of St Thomas at the New Year's eve Winter Carnival in Newcastle
In Scotland, about 80,000 people gathered in Edinburgh city centre for the famous Hogmanay street party, with music from the Pet Shop Boys as well as traditional Scottish sounds at an outdoor dance event. But those venturing outside to welcome in 2014 had to contend with some potentially brutal weather, with the Met Office issuing more than 100 flood alerts, covering every region of England.
Revellers across Scotland and Northern Ireland faced lows of between 3C (37.4F) and 5C (41F), while those in northern England endured temperatures of about 6C (42.8F) and those in the South celebrated amid breezy temperatures of between 7C (44.6F) and 9C (48.2F).
Any late night party-goers making their way home from around 6am will find themselves among the unsettled weather that is predicted for the coming week. It means those attending Wednesday's annual New Year's Day Parade in London may have to contend with a miserable start to the year. London delivered its usual extravagant firework display on the Thames
The celebration parade will feature music from around the globe, leaving the Ritz Hotel at noon and winding through Piccadilly, Pall Mall and Trafalgar Square before ending in Parliament Square. About half a million people are expected to attend.
On Tuesday night in London, about 50,000 people took part of "the world's first multi-sensory fireworks display", with peach snow, edible banana confetti and orange-scented bubbles descending on a section of the crowd.
London Mayor Boris Johnson said: "There is no better way to celebrate the highs of 2013 and the start of an exciting new year than by seeing one of the world's most dazzling firework displays, now augmented in more ways than one. Watched by millions around the world, and hundreds of thousands of people from the banks of the Thames, it highlights our capital's fantastic community spirit and its premier position on the global stage."
Up to 100,000 people in key viewing areas by the Thames also got packs featuring scratch 'n' sniff programmes, LED wristbands and seven kinds of fruit-flavoured sweets that link to the tastes and smells of the multi-sensory display.