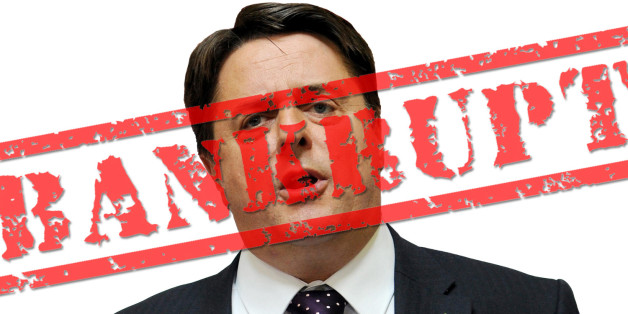 Nick Griffin has reacted rather cheerfully to the news he has been declared bankrupt, saying today is a "good day".
The leader of what remains of the rather bedraggled BNP, has optimistically said the court ruling actually frees him from any financial concerns and has insisted he will continue as a member of the European Parliament and run for re-election in May.
A note for all: Being bankrupt does NOT prevent me being or standing as an MEP. It does free me from financial worries. A good day!

— Nick Griffin MEP (@nickgriffinmep) January 3, 2014
Griffin reportedly racked up huge debts after a dispute with a legal firm over professional negligence.
But it could be worse – he could be Michael Schumacher, the party has told the Huffington Post UK.
"Look at it this way," he said. "Michael Schumacher has millions in the bank, but he'd do anything to be in Nick's position now wouldn't he," the party's press officer said.
Griffin declared himself as without assets in Welshpool County Court, the Individual Insolvency Register revealed.

According to the British Democratic Party he offered to pay 42p in the £ over 5 years to all his creditors – the balance to be written off.
This paltry sum was rejected by the petitioning creditor.
Questions have now been raised about what the future holds for the far-right party.
Griffin has already hit back and insisted his future with the party is not in jeopardy.
Party funds are not affected in any way. Our campaign in May will be our most professional yet & I will be lead candidate in the North West.

— Nick Griffin MEP (@nickgriffinmep) January 3, 2014
BNP press officer Simon Darby also emphatically told BuzzFeed that the ruling would not force Griffin to step down as an MEP.
"It doesn't affect Nick's status [as an MEP]. There's a lot of nonsense going around that if you're made bankrupt you lose your seat. The rules were changed, you're not disqualified, and you can stand again."
He described how the BNP chairman had "taken this on the chin for the party, he's going to be standing again, he's been brave."
"A lot of politicians screw the system and in this case the system's screwed Nick," he added.
But, every cloud has a sliver lining, and the MEP has taken to Twitter to describe how he will be making the most out of his financial woe.
I am now turning the experience to the benefit of hard-up constituents by producing a booklet on dealing with debt. No surrender!

— Nick Griffin MEP (@nickgriffinmep) January 3, 2014
Advice published by the Electoral Commission said bankruptcy in itself does not bar someone from being a member of the European Parliament or standing for election.
Restrictions are only triggered if an individual is made subject to a bankruptcy restrictions order or debt relief restrictions order.
The Insolvency Service said such orders had not been made in Mr Griffin's case.
But the BNP's alleged cash crisis were apparently laid bare in November by ex-chief fundraiser James Dowson, who wrote in a letter that that the party's finances were like "a shipwreck".
"Cash is in very short supply... [it is] impossible for the BNP and persons associated with it to pay outstanding bills in anything like a normal timescale, if indeed at all."
The party's apparent money problems were reportedly made worse by having to settle a legal row, along with the cost of fighting the Equality and Human Rights Commission over its whites-only admission rules.
Griffin's party faced financial fears after featuring Marmite in an ill-judged ­election broadcast.
The party was hit with a massive claim – estimated at up to £170,000 – over the TV stunt, in which leader Griffin was ­pictured beside a huge jar of the spread.
The party then showed a jar of Marmite – slogan "Love it or hate it" – with its own motto "Love Britain Vote BNP".
But, unsurprisingly, those at Marmite's maker, Unilever, were furious at the BNP broadcast and began High Court proceedings for breach of copyright.
Mr Griffin will be automatically discharged from bankruptcy in one year, on January 2 2015, in accordance with the Insolvency Act.