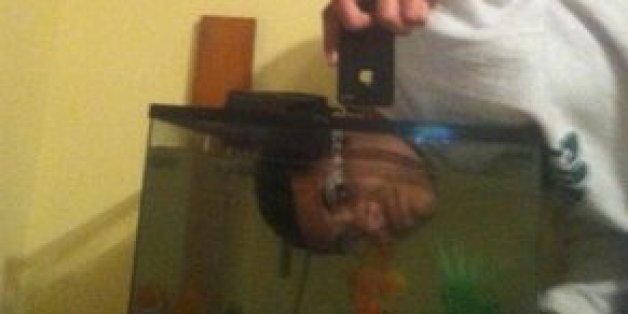 Twitter
Selfies, an abomination that often reflect humanity's narcissistic descent, may have been saved by a viral internet sensation.
Social media users on Facebook, Instagram, and Twitter are being asked to join in the game of making the most ridiculous selfie ever.
Business Insider reports that a Facebook page created this morning already has 30,000 likes, while there are over 28,000 pictures on Instragram, and the selfie game has been trending on Twitter.
The results are truly incredible. Here are some of our favourites:
Hogwarts Selfie #SelfieOlympicspic.twitter.com/UTQMaJN8p8

— The Selfie Game (@SelfyGames) January 4, 2014
Gold Medal Candidate pic.twitter.com/Sdw8Uci2cW

— The Selfie Game (@SelfyGames) January 4, 2014
The Selfie Game has been killed RIP pic.twitter.com/zuqxnSmwzf

— The Selfie Game (@SelfyGames) January 4, 2014
Selfie game strong while fighting cancer. #winner 🙏🏆 pic.twitter.com/UgsKMOPMvR

— The Selfie Game (@SelfyGames) January 3, 2014
Finding Nemo Selfie pic.twitter.com/GJv46WfHi8

— The Selfie Game (@SelfyGames) January 4, 2014
Selfieception pic.twitter.com/e4oQuoTjdW

— The Selfie Game (@SelfyGames) January 4, 2014
Step your selfie game up pic.twitter.com/xLtO9YhbHL

— The Selfie Game (@SelfyGames) January 3, 2014
The dude put his whole house in the bathroom pic.twitter.com/NSiK3bUBUJ

— The Selfie Game (@SelfyGames) January 4, 2014
January 4, 2014
His selfie game is strong. pic.twitter.com/Lcg5zXfhR2

— The Selfie Game (@SelfyGames) January 4, 2014
Only God can judge me pic.twitter.com/pyvJgB05PY

— The Selfie Game (@SelfyGames) January 3, 2014
His selfie game is crazy. pic.twitter.com/v1ncjFoc4q

— The Selfie Game (@SelfyGames) January 3, 2014