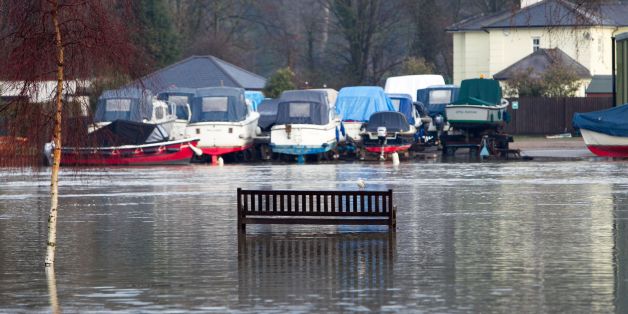 PA
Severe weather warnings remain in place as more heavy rain, strong winds and large waves are expected to cause further coastal flooding.
The Met Office issued a yellow warning - meaning "be aware" - for heavy rain tonight in southern parts of Scotland, Northern Ireland, southern Wales, north-east England and the South.
Up to 40mm of rain could fall in higher ground.
Story continues after slideshow...
A yellow warning has also been issued for wind as gusts of up to 70mph are expected on the west and south-east coast of Britain and the east coast of Northern Ireland tomorrow.
This will cause "exceptionally high waves", the Met Office predicted.
Meanwhile, the Environment Agency issued 70 flood warnings covering every region, urging people to take immediate action as flooding was "expected".
The agency estimated that about 220 properties have been flooded so far, miles of coastline have been battered and roads and fields across the country left under water.
The transport network has also been hit, with roads closed and trains delayed or cancelled in many areas.
First Great Western encouraged passengers travelling in Cornwall, Devon, Somerset, Dorset and Hampshire today to begin their journeys as early as possible due to the risk of flooding.
The Thames barrier will be in operation again tonight to protect people and property along the river.
In Oxford a 47-year-old man died when his mobility scooter fell from a flooded path into a river.
Thames Valley Police were called to Osney Lock near the city centre at 6.30pm yesterday after receiving a report that the man had fallen into the river.
A police spokesman said the man's death was being treated as unexplained but was not believed to be suspicious. His next-of-kin has been informed.
The Environment Agency (EA) urged communities in Dorset and Oxfordshire to remain prepared for "significant flooding" in the lower reaches of the Thames, Dorset Stour and Frome rivers.
Ongoing flooding is expected on the Somerset Levels and rivers in the South East, including the Severn, remain "very high" after recent rainfall.
Jonathan Day, flood risk manager at the Environment Agency, warned that the risk of flooding continued into next week.
He said: "Although high tides are now falling, there remains a risk of coastal flooding, especially on the south and west coasts.
"In addition, wet conditions have left the ground saturated in many areas, increasing the risk of river and surface water flooding.
"We would urge people to be prepared by checking their flood risk, signing up to free flood warnings and keeping an eye on the latest flood updates via the EA website and Twitter.
"Environment Agency teams remain out on the ground across the country and will continue to work around the clock to protect communities at risk."
David Cameron pledged that lessons will be learned from the flooding and insisted that the Environment Agency has been given the funding to protect frontline services.
Mr Cameron told the BBC's Andrew Marr Show: "We're spending £2.3 billion in this four-year period on flood defences which is more than the previous four-year period.
"We have also enabled them to access other sources of money - partnership funding - so I think we're going to see record levels of spending on flood defences and we have guaranteed that right out into 2020 so they can really plan for the future."
Mr Cameron went on: "I think we're doing a lot more things better.
"I think flood warnings are better, I think the flood defences have protected tens of thousands of homes but there will always be lessons to learn and I'll make sure they are learned."
Environment Secretary Owen Paterson chaired a meeting of the Government's Cobra emergency committee today.
He said: "Surface water flooding remains likely in some parts of the UK and the Government remains ready to respond and continue to help communities.
"When clean-up operations are able to begin, then assistance will be provided."
Searches resumed in south Devon for missing 18-year-old university student Harry Martin, who was last seen leaving his home to take photographs of the weather - with more than 100 people volunteering to look for him.
Two people have already died in the storms. A 27-year-old man from Surrey was found on Porthleven Sands beach in Cornwall after he was swept out to sea on New Year's Eve night and a woman died after being rescued from the sea in Croyde Bay, north Devon.
Officials around the country have pleaded with people to keep away as dozens put their lives at risk by going to coastal areas to watch as the storm brought waves of up to 40ft high crashing onto land.
A man and child were almost swept away by a huge wave at Mullion Cove in Cornwall as they peered over the sea wall to watch the raging sea and elsewhere in Cornwall vehicles driving on a coastal road were swamped and almost washed away by a tidal surge.
Police pulled a man from the sea who had been drinking at Towan Beach, Newquay, after he had ignored warnings about the fierce storms.
In Aberystwyth, Dyfed, a man was rescued by lifeboat after he became trapped when photographing waves from a harbour jetty.
The coastal surge in recent days has tested over 3,000km (1,864 miles) of flood defences in England and more than 205,000 properties have been protected, according to the Environment Agency.
Northern Ireland has largely escaped any serious flooding or damage but, amid fears of changeable conditions, police announced plans to hand out sandbags in a number of towns close to the Co Down coast, which they believe could be vulnerable to the high tides, wind and rain.
Meanwhile, police in Dorset were warning that the potential for flooding in the county was "critical" with more rain forecast.
The Met Office has issued an amber weather warning for the county and forecast a significant weather front moving across the area which is expected to cause more disruption.
Coastal areas are likely to suffer further aggravation from gusts of wind expected to reach 60mph to 70mph.
Dorset Police said the A354 Blandford to Salisbury road was already closed.
"The situation in Dorset is considered to be critical with ground water and river water levels already being at saturation point with more rain - expected to be heavy at times - forecast for Monday through to Wednesday," a force spokeswoman said.
"Motorists are reminded to take extra care and are strongly advised not make unnecessary journeys - there will be significant standing water in many carriageways.
"The A354 from Blandford to Salisbury has already been closed causing considerable disruption to road users who are advised to avoid the area.
"There is a potential for Preston Beach road in Weymouth to close at 9pm when high tide is expected to cause flooding.
"Should it close, it will remain closed for at least two hours and will only re-open when it is considered safe.
"Motorists are advised not to ignore road closure signs."