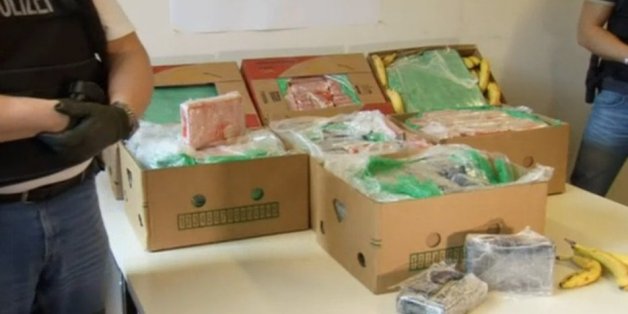 Sky News
Supermarkets in Berlin had an unusual special offer this week.
Aldi workers were left rather surprised when they found huge shipments of cocaine hidden in banana crates at five different branches.
TOP STORIES TODAY
Police recovered 140kg of cocaine – worth up to £5 million – in what is being called a "logistical mistake" by smugglers.
Police spokesman Stefan Redlich said: "Employees of supermarkets in Berlin and Brandenburg found boxes that should have been filled with bananas, but in the boxes had been more than 100kg (of) cocaine."
Police said the drugs, came from Colombia. At the German port of Hamburg they were loaded onto trucks and sent to Berlin.
The first tests showed they contained 55 percent pure cocaine but police stressed some of the parcels could be up to 90 percent purity.
Mr Redlich said the seizure was one of Berlin's biggest in almost 20 years.
"For Berlin this is the biggest drug find in the last 10 or 20 years. Usually you find such amounts only in the harbours like Hamburg. For Berlin this is extraordinary," he said.